The rain didn't stop 380 students from getting their hands dirty to work on the Santa Maria School-Otara Creek restoration.
Students of Sancta Maria Catholic Primary School and College, along with teachers, teacher aides and parents, spent a week planting native trees, around 6500 plants, alongside the Otara Creek on the school border.
Some of the five to 10-year-olds and teachers equipped with gloves and spade in hand, were drenched but still looked happy.
Deputy principal Jenni Woodside says students could see the bigger picture of how creation is a treasure.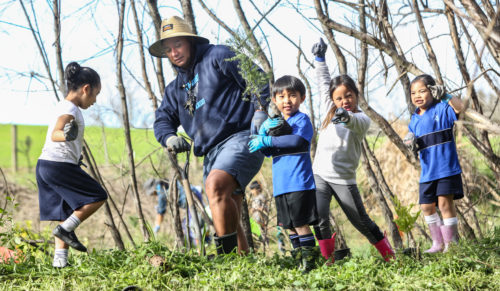 "At present, our school wide learning concept is kaitiakitanga (guardianship and protection) and our enduring understanding is: Our faith shapes our Te Wa (life journey) and empowers us as kaitiaki to respect and protect God's creation as a taonga (treasure) for all.
"Our role as kaitiaki is and how to grow our kaitiakitanga by working in conjunction with Auckland Council to plant 6500 plants as well as the installation of 3000 biodegradable protectors for the pesky pukekos."
The tree planting ran from June 15-19 with the community pitching in on June 20.
"Our primary school students planted from 9pm-1pm with classes having a two-hour session each. The college (on the same campus) was planting in the afternoon.
"We also had Mission Heights Junior College plant trees," she says.