When most principals of local schools were facilitating remote learning during Covid-19 lockdown, Steve Hargreaves, principal of Macleans College was dealing with far bigger issues.
Hargreaves was appointed president of the Auckland Secondary Schools Principals' Association (ASSPA), during the six weeks of lockdown.
As the newly-anointed president, he represents 107 secondary school principals in Auckland, a leadership role that involves advocacy and fostering a supportive network for members; negotiating with government agencies and being the spokesperson for media outlets.
Known to make some hard decisions, whether it's cancelling Year 13 graduation ball after he discovered that around 100 students drank alcohol at parties; or bringing more heart to the college by changing the focus of the school beyond high achievers, in the two-and-a-half years that he has been principal at Macleans, he has amply proved his worth.
Right now, Hargreaves is negotiating with the region's economic development agency ATEED as well as the Ministry of Education and a software firm to allow the new intake of international students across the border and welcome them during the summer holidays in December.
The education sector has lost hundreds of millions of dollars and local colleges are feeling the impact with international students contributing more than $5 billion to the economy.
Hargreaves says he is in the process of talking to senior international students on staying back in December.
"We may have to make living arrangements for students who are already here and were supposed to return home," he says.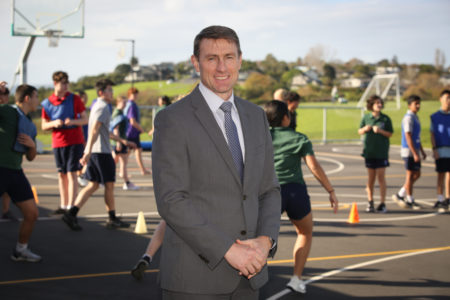 Unsure whether the students who return home will be allowed to re-enter New Zealand during these uncertain times, he says they may have to make a choice of not seeing their parents for a while.
Another spanner in the works with the global pandemic closing borders has been the cancellation of school art tours to Europe.
Twenty-eight of 107 high schools had overseas tours booked with various tour companies that were cancelled due to the pandemic. It resulted in parents losing a lot of money with pre-booked tours.
Macleans College had 35 students scheduled for an art tour to Paris and England. Families that had shelled out a part-payment of $3000 were agitated when they heard their money was held up.
The tour company promised a refund 15 per cent.
"While the tour company is working to get the money back, we as a school thought it was only right to repay the 15 per cent amount to parents and underwrite it till the tour company refunds the money to the school."
Hargreaves also says that most of the changes that were proposed with Tomorrow's Schools will come through soon.
It includes the big NCEA review, the changing nature of the curriculum and huge reforms in governance and administration of schools.
He admits being the principal of a school has given him sleepless nights. There have been times when he has had to be firm about making the right decisions even if it made him unpopular. "When you are a principal of a school, it's like putting your head on a chopping board.  But it's important to have the satisfaction of doing the right thing."