East Auckland has its own app.
Created to open up all that is on offer on this side of the Panmure Bridge, the free app can be downloaded to either Android or Apple devices, it is designed to give users instant access to everything from things to do and where to spend your leisure time to what's going on in the region and local news.
The East Auckland app, developed by locally-owned company Times Media, provides a compass in a sea of metadata which simplifies access to contact details and information relevant to visitors and locals, irrespective of age. It provides ready access to just about anything you might want to know or find under easy-to-navigate icons with a plethora of touch screen points,
For example, under Amenities, the app provides information for banks, childcare facilities,, drycleaners, petrol stations, laundromats, libraries, parks, police, retirement, retirement villages, schools, places of worship and even public loos.
Users will find address details and, where applicable, an instant map pinpointing the location of the amenity or business or group. Some of those listed who have chosen to expand their offerings have additional information and images as well as direct contact details.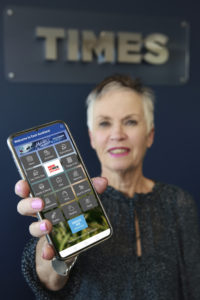 Times Media's managing director Reay Neben says the East Auckland app is an innovation made to make busy lives a little simpler not only for visitors but those who live, work, eat, play and are active in the Howick, Pakuranga, Bucklands Beach, Botany, Ormiston, East Tamaki, Whitford, Clevedon and Beachlands, Maraetai areas.
"It doesn't matter whether you're a busy mum, a couple looking for a place to eat or stay, or a family wanting to know what's happening this weekend, the app's appeal is that it can give you a really simple springboard to everything in our wonderful communities," she said.
"It features everything that's happening in our community right down to the news in this area. Just download it and have a look and a play with it.
"There's everything there and, if there's not, please let us know. The app is live now and we're having a tremendous response.
"It's easy to download. If I can do it, anyone can. This app will appeal to all ages."
The East Auckland app can be downloaded from Google Play for Android devices and the App Store for Apple users