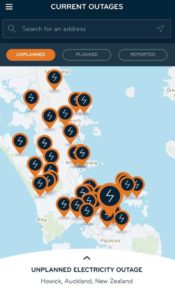 Auckland residents and holidayers are facing day two of the summer storm currently battering the North Island.
The storm downed trees, flooded roads and caused power outages across the city as it hit overnight, bringing more rainfall to Auckland in 24 hours than it had in November and December combined.
As of 9:30am, Vector had power outages logged in Clevedon, Flat Bush and parts of Whitford, as well as a number of others across the city,
Weatherwatch.co.nz said the low of the storm, just offshore from the western upper North Island, was expected to make landfall today and would slowly unravel as it started tracking southeast across the North Island.
In a press release, Weatherwatch said the peak of the winds was this morning and would start to ease back slightly this afternoon – however windy weather could be pushed into new areas as the low tracks into land.
Do you have photos of the storm damage? Email kellyt@times.co.nz.