Assistance dog provides seven years of friendship and daily aid to 19-year-old Reuben, helping him feel less isolated and alone
Before assistance dog Logan joined Cockle Bay's Nico Jansen, Michéle Theron-Jansen and their son Reuben over seven years ago, they described their lives as being in their own permanent 'lockdown', a term we are now all so familiar with.
Reuben, now 19 years old, is autistic, non-verbal and suffers from hypotonia (decreased muscle tone leading to stability issues and trouble walking). He struggles with loud noises, would often run off without warning and could be unwilling to comply with directions. This made going out to public places or even a walk to the park difficult, putting the family's life on hold.
The Jansen's are sharing their story as Assistance Dogs NZ Trust (ADNZT) fundraises during their Annual Appeal month of September, petitioning to the public to help fund the training and placement of more life-changing Assistance Dogs. With the reduction in cash giving and over 50 families still waiting for their dog, the trust has been virtually shaking their buckets this year, aiming to raise $75,000 to fund their vital work.
This will continue to address the escalating need within the New Zealand disabled community for assistance dogs that offer independence and crucial daily aid. ADNZT trains specialist public access dogs under Assistance Dogs International accreditation for clients with various neuro-disabilities including Autism and Cerebral Palsy.
Within months of Logan joining the family, Reuben formed a strong bond with his assistance dog, starting to show affection and making sounds to communicate with him, something his parents had never seen before.
"Reuben didn't know how to show affection, even to us as his parents. So seeing him start to pat and 'speak' to Logan was an absolute revelation. Now, he's so much more connected to the world around him," explains Michéle.
Reuben finds even the slightest change difficult. With Logan at his side, Reuben has been calmer and more confident, attending appointments and haircuts with relative ease, something that wasn't possible before Logan arrived. As one of his only friends, Logan helps make life a little less lonely, ensuring Reuben always has a buddy nearby to provide comfort and unconditional love when times are tough.
Like many parents of children with disabilities, the Jansen's experienced prejudice and misunderstanding when Reuben acted out in public as autism is more of an 'invisible' disability. With Logan alongside them in his smart blue ADNZT coat, people are more understanding, and the family can enter their community without anxiety.
This year Reuben developed seizures and other changes in his behaviour, and Logan has continued to provide invaluable support. When Reuben comes out of a seizure, his dog is lying there at his side, comforting him as he recovers. This makes life a little less scary and helps Reuben's family through these new challenges. When stress is high, Logan is always there to offer a cuddle for those that need it, and a calming presence in the house.
"It's hard to do justice to how much Logan has transformed our lives, and the huge impact he has had. Anyone who donates this Appeal will be giving freedom to those with life-altering disabilities," says Michéle.
The charity has begun to increase capacity over the past 18 months as they start to recover from Covid-19 lockdowns and are currently able to output 10 trained dogs per year. Plans are to increase this to 18-20 dogs trained annually by 2025, a goal that can only be made possible by the continued support of the public.
Established in 2008, ADNZT services 40 clients around New Zealand and has 25 puppies in training. With their waitlist over five years long with over 50 families on the list, they know the only way to address this need is to increase their breeding, dog training, volunteer base and client service capacity.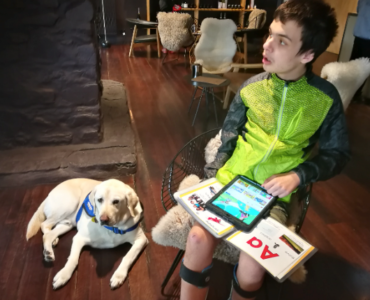 Funding manager Alex Williams explains, "The Trust doesn't receive any government funding, and is funded solely by generous donations, grants and individual donors, including our puppy sponsorship programme.
"That's why our annual appeal month is critical to fund the ongoing costs of training our dogs and providing life-long support for the families in our care. With the reduction is cash and street collections, we've moved much of our fundraising online and have asked supporters to virtually shake their buckets for us if they're not comfortable fundraising public."
The hard cost of training, placing, and supporting an Assistance Dog throughout their working life is $75,000 (which covers two years of development and training, and ongoing support until retirement at 11 years old).
Assistance Dogs NZ Trust's 2022 Appeal month runs to the end of September, calling for any donations you can make to street collectors this Friday and Saturday in Auckland, Hamilton, Tauranga, Wellington and Christchurch, or online at www.assistancedogstrust.org.nz.