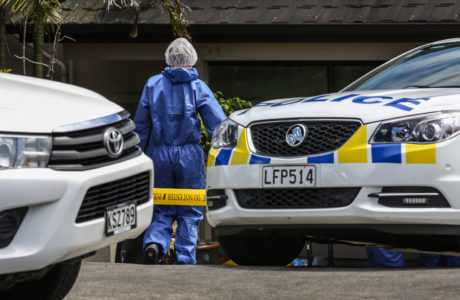 Police are yet to arrest and charge the person or people responsible for the violent death of east Auckland woman Elizabeth (Ying) Zhong, seven weeks after her killing.
The 55-year-old's body was found inside her vehicle on November 28 last year.
Her black Land Rover vehicle had been parked in Roadley Avenue, Sunnyhills, a short distance from her three-storey home in Suzetta Place.
The last confirmed sighting of the businesswoman was at about 4.30pm on November 27.
Pakuranga MP Simeon Brown is publicly calling for people with knowledge of what happened to Zhong to do the right thing and speak to police.
"The death of Elizabeth Zhong was incredibly shocking and sad for the entire Sunnyhills and Pakuranga community," he says.
"If anyone has any information regarding Elizabeth Zhong, please approach the police and provide them with that information to support them in their ongoing investigations."
The Times addressed a number of questions relating to Zhong's death and the resulting homicide investigation, named 'Operation Attina', to Counties Manukau Police.
They included whether or not police are working to identify if her killer had fled New Zealand and also if a post mortem carried out on her body had established her cause of death.
Some media organisations have previously reported Zhong was stabbed to death.
That detail has not been confirmed by police, however, as they remain tight-lipped over many aspects of the investigation.
It has been confirmed though that Zhong was subject to a violent attack before her death.
Counties Manukau Police detective inspector Shaun Vickers says progress is being made on the investigation into Zhong's death.
"We appreciate your interest in this case, but as we have previously said on a number of occasions, we are not going to comment on any specific details at this stage of our investigation.
"Our community can be assured we have a team of detectives working hard on this case and they will continue to do so until we make an arrest or arrests."
Following Zhong's death, police publicly appealed for sightings of Zhong's Land Rover in the days leading up to her killing.
Investigators conducted an area canvas and spoke to her family, friends and associates.
Members of a specialist police forensics team wearing white hazmat-style suits were seen working in what appeared to be her property's kitchen as an armed officer stood guard in the driveway.
Police have described Zhong's family as being "devastated" by her death.
She was the director of the company Digital Post Limited, which is based in Epsom, central Auckland.
People with information on the death of Elizabeth (Ying) Zhong can phone police on 261-1300 and quote the file number 201128/1909, or phone the free and anonymous Crimestoppers tip-off line on 0800 555 111.