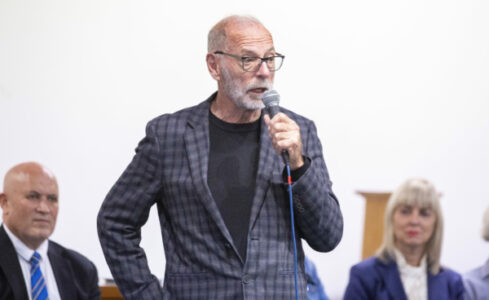 Laura Kvigstad, Auckland Council reporter, funded by New Zealand on Air
Mayor Wayne Brown's latest draft of his Auckland Council budget proposal pulls back on cuts to social services while maintaining the council's Auckland Airport shares need to be sold.
Brown's latest budget proposal features a permanent savings target of $70 million, increases rates to 6.7 per cent and pulls back cuts to social and local board services.
The budget proposal would reinstate all local board funding, all regional grants and a majority of regional service funding.
CCO's savings targets have also been decreased in the latest proposal with the council groups spending cuts reduced from $125 million to $74 million.
Brown maintains that council's 18.1 per cent stake in Auckland Airport must be sold in order to pay down $2.2 billion in debt, reducing annual interest costs by $100m.
"It makes absolutely no sense to retain those shares when we could realise the capital gains and wipe $2b of debt from the council books for good. The savings from that are huge. If we don't sell now, we will have to put rates up by double-digits and make bigger cuts," Brown said.
If Brown is unable to sell the shares he said he would revisit deep cuts to services before increasing rates.
"Unfortunately, there are some councillors who, for ideological reasons, think we must retain a huge amount of shares in a single company listed on the stock exchange – whatever the cost."
Among the councillors who are opposed to a total sale is Cr John Watson who said he had mixed opinions on the budget.
"I support and commend the attempts to keep the rate increase to around the inflation rate. We know there's a lot of people doing it tough out there," Watson said.
"The airport shares, $2.4b worth of asset which has appreciated markedly – they are the single biggest asset of council, they didn't cost the council a single cent."
He said the sale of such a significant asset needed a mandate from the public and Brown did not get the support needed during the budget consultation.
"62 per cent [of submitters] supported to either sell none or to sell partial – they don't have a mandate."
Watson said there was a cycle of debt at council where the organisation would blowout costs and then sell off assets. He said the airport shares and the Ports of Auckland are the last two significant council assets.
"If we don't confront the culture of excess that has developed over the last decade then we just repeat this cycle of more borrowing, selling off what remains of the assets, and there's not many assets left."
Watson said he supported a limited amount of divestment of the airport shares in order to buy time but large rate increases would be unavoidable unless the culture of excess was addressed.
Cr Greg Sayers said he was supportive of the move to sell the shares but it was a temporary fix for council's long term financial challenges.
"What got me across the line was the commitment that the money [from the sale] would be used to pay down debt and not used for any operational expenditure," Sayers said.
He said it was not financially prudent to hold on to the shares that cost $100m a year in interest and generate up to $30m.
"If there was ever a time for a rainy day fund that we need to capitalise, it's now. We have got such a huge deficit made up of the Covid-19 recovery and the storm events compounding on that."
"This is a 'band-aid fix' budget and next year the Mayor must present his promised how to 'fix Auckland' budget."
Cr Andy Baker said $2b of debt was not currently being hedged, a practice which limits risk from financial fluctuations.
"In my view the most responsible act we can do is to get rid of that risky and fluctuating cost which can only be achieved quickly by the sale of the shares," Baker said.
Baker said the three options council had was to raise rates higher than the rate of inflation, increase debt or sell the shares.
He disagreed that this was a band-aid budget and said council had been using band-aid budgets for the past few years.
"None of those Councillors who oppose the sale of the shares, which are the biggest area of debate, have provided an alternative showing the exact figures as to how we will balance the budget even though we have been meeting weekly as a Governing Body to discuss the budget in extreme detail. That is disappointing."
Cr Chris Darby said the budget setting process was multifaceted, complex and challenging.
"Threatening rhetoric does not remotely contribute to successfully resolving our financial predicament," Darby said.
He said he would be working with other councillors leading into the budget debate where he will make his final comments.
At the Audit and Risk committee on June 2, Financial Strategy and Planning general manager Ross Tucker said no legal, tax or audit risks for the sale of the shares were apparent but stressed the uncertainty of the sale price.
"Share prices are inherently uncertain – there are no guarantees," Tucker said.
Councillors were to hash out the budget proposal on June 8 before it is up for adoption on June 29.