By Jim Birchall
The Times had quite a response to last week's inorganic collection story, in which 79-year-old Mary Wilton aired her grievance with council's collection policy.
Readers expressed an overwhelming dissatisfaction with the current service as shown by the theme of the comments below:
Ed Lander was annoyed by the scheduling of pickups, which saw his neighbour's refuse go uncollected as he had booked on another day. "The council picked my inorganic items as scheduled but refused to take my neighbour's as he had phoned and booked his collection a couple of days after me and council returned one week later to pick up his. What a joke sending 2 trucks back one week later."
Local resident Deane was also confused by his items not being picked up. "I had a very small amount of waste which included a few pieces of wood, a few of pieces of gib and tile board. I wouldn't have even been 1/10th of the amount I was allowed to put out. They took the wood and left the rest, but unlike Mary, I didn't get any card saying why. They put on the list that you can't put out construction waste, but that should be to stop building sites dumping stuff. Not for a resident with 7 items. The ridiculous bit is that I just took it, broke it down a bit more and placed it in the normal rubbish bin. It all ends up in the same place".
Bob Fletcher felt the service has deteriorated. "First a list of 'hazardous items' (e.g. water-based paint) were banned. Initially, a Hazmat service was offered twice a year so ratepayers could take these 'hazardous' items to a collection location (Lloyd Elsmore carpark). That service was then stopped. Paint these days can only be taken to Resenes who will charge for each can that is not a Resene paint. Old gas bottles have to be taken to a company in Wiri. The normal weekly collection of garden waste is no longer accepted."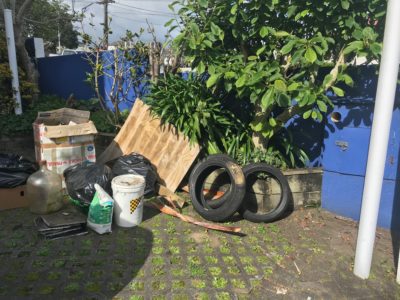 Joan Noyer added; "I didn't bother ringing council. I have found them hard to deal with. I am a pensioner so I have no way of taking it anywhere. Have put it in shed!!! till next year!!"
However, readers Jill and Pat disagreed with Mary, explaining that the current system is a "big improvement on the old  collection day … as there is no longer heaps of rubbish on the berm for days on end, resulting on it being scattered far and wide by people going through what was a tidy pile."
"It is quite clearly stated by the council what can be put out and what will not be collected.  This is done both on the website and in the pamphlet delivered to your letterbox prior to the collection," said Jill.
Vicky Williamson took a holistic approach. "We must also take responsibility for the purchases we make by looking at how one must dispose of them when they are past their usefulness.  That time of possible purchase is also a point at which we can make clear to the seller that we do not approve of the aspect of disposal in the future because of council restrictions, environmental law or other good reason.  If it cannot be disposed of lawfully, then refuse to buy the item or find some way to recycle, repurpose, reuse."