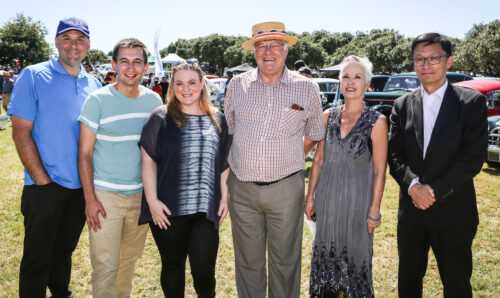 The Auckland Brit and Euro Classic Car Show scheduled for early next year has been cancelled.
Organising committee chairman Rev Dr Richard Waugh made the announcement yesterday afternoon.
"The organising committee of the Auckland Brit & Euro Classic Car Show regrettably informs you that the show planned for Sunday March 6, 2022, has been cancelled. This is not a decision that has been taken lightly," he said.
"Unfortunately, the B&E is unable to go ahead under the current Covid Protection Framework (CPF), unless the 'traffic-light' setting is at green.
"With Auckland currently at red, soon to go to orange, the organisers face ongoing uncertainty. This means we are not able to commit to expenses, nor can we then expect to be able to put on the show we want in the time remaining.
"It is highly unlikely that a decision by the Government to change Auckland City's setting (to green) will occur in good time for the show to proceed. Furthermore, the emergence of the Omicron variant creates further doubt."
Waugh said in arriving at their decision, they also considered the degree of additional work required by their volunteers at green too onerous to continue to deliver the Southern Hemisphere's largest free British & European Classic Car Show. Attendance is usually more than 10,000 people.
"Not only does the CPF create additional work due to our event being held in an open space but it also comes with significant costs to meet mandated health and safety obligations," Waugh said.
"None of this was envisaged or budgeted for when we made our funding application to (Auckland) Council."
These additional costs would include having to hire 1.2km of security fencing (to restrict access to Lloyd Elsmore Park to enable checking of My Vaccine passports), putting on added paid security (to deal with any entry gate disturbances), finding more volunteers and subsequent training (for sighting vaccination passes) and extra pro-active police presence.
"Whilst additional funding is available through the Government's Reactivate Fund, the extra volunteer workload required to meet our obligations all conspires to compromise the success, ethos and values of our classic car show event," he said.
"Our show is 'By the Community for the Community'.
Over the last six years the Brit & Euro Classic Car Show has gone from strength to strength, made all the more spectacular through the support and involvement of the car clubs and their membership.
"One thing is for sure, we will come back stronger in 2023 for our event on Sunday March 5.
In the meantime. watch this space as we intend to run a few smaller pop-up events later in 2022," Waugh said.