For someone who had never worked out, Mary Piggins can't believe that she is the lead in the visually stunning production Dawn.
It is a collaboration with Auckland Philharmonia Orchestra (APO) and The Dust Palace, best described as a ballet in the sky.
It's surreal, a magical escape to another world is how the 17-year-old Howick College student describes her experience at the circus theatre company The Dust Palace.
She is surprised by the core strength and flexibility she's developed in the last couple of years.
"Till three years ago I had never done gymnastics or dancing or any kind of exercise. And now I am obsessed with it. I can't believe how much strength I have developed. The first six months were tough but then onwards it's only been fun," Mary admits.
She believes it has helped her use different parts of her brain as she developed body awareness, self discipline and confidence to perform in front of an audience.
"The hardest thing is to have a grip and hold on to the silk rope. It needs so much strength, stamina and coordination to stay up in the air. Then there is artistic expression."
She is also part of HighJinx, the circus performance youth company that gives students an opportunity to perform in front of an audience.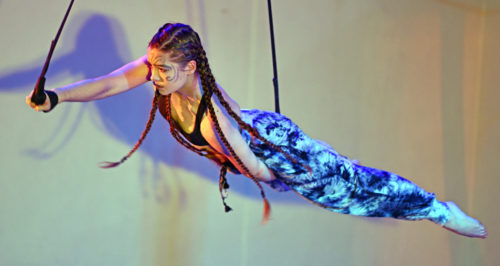 Mary gives credit to Eve Gordon and Mike Edward, the people behind the Dust Palace for having scripted Dawn which showcases cirque artistry.
After a sell-out, breathtaking show Midnight, this collaboration between APO and The Dust Palace, will tell their enchanting story around and above the orchestra.
Handel's beautiful Sarabande, Respighi's portrait of The Nightingale and arguably the most famous sunrise ever set to music, Grieg's shimmering Morning Mood from Peer Gynt, are just a few of the beautiful and sometimes quirky classics the orchestra will perform.
The repertoire also includes two pieces by highly-regarded New Zealand composer Eve de Castro-Robinson; Aurora and an excerpt from Releasing the Angel.
The audience can expect giant puppets and performers flying through the sky with more surprises thrown in.
To be hosted on Friday, October 11 at 8pm and on Saturday, October 12 at 2pm, Aotea Centre, 8pm, Mary says she is very excited about her first professional debut.
The Times has a double pass to give away for Dawn. To win, enter competitions at www.times.co.nz by October 4.