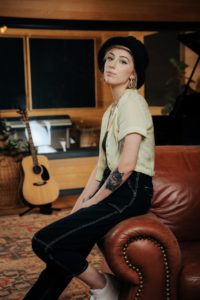 Howick singer Christabel Williams has bee-lined straight into the top four of New Zealand's hit show Popstars.
Viewers glimpsed the top six perform original music at Auckland's Town Hall.
"I was pretty gutted with my performance," Williams says.
"My anxiety was really high."
Williams sets high standards for herself.
When she perceives herself not reaching those standards, it becomes debilitating.
However, upon watching the broadcasted episode, Williams was "pretty stoked" about her performance.
She'd thought she'd done worse.
"It's given me more confidence going forward in me and my performances," she says.
Williams was "really shocked" that she was selected to be in the top four.
"I was also really surprised that Illisapeti Filimoehala was sent home," she says. "She has a beautiful voice."
Williams' single is being released at midnight Thursday.
All of Popstars' top four are releasing singles across multimedia platforms such as Spotify.
"I wrote the song myself," she says, "with wonderful production input."
Williams wrote some of the lyrics and the piano rift during quarantine last year.
It's been in the back of her mind ever since.
"It's about my story," she says. "It's about chasing your dreams and desperation."
The original song is more "poppy" than Williams' previous works. She's known for more moody, low-key music.
"It's a banger," Williams says. "I hope people dance and sing along to it."
Williams says the song means a lot to her.
"It's wonderful that I can share my story in a way people can see."