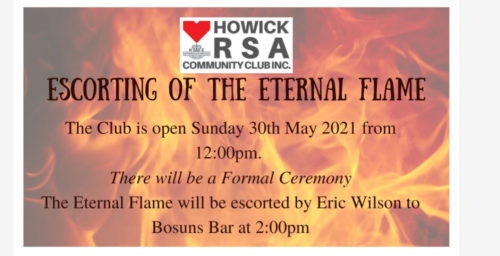 The Eternal Flame will stay alight as the Howick Returned and Services Association shuts the doors temporarily on its Wellington Street headquarters of six decades.
With the Howick RSA and Community Club committed to redeveloping the site with an eye to securing its future for the next century, it has struck an agreement with The Prospect of Howick/Good Home to operate and congregate in Bosuns Bar of the Picton St hotel.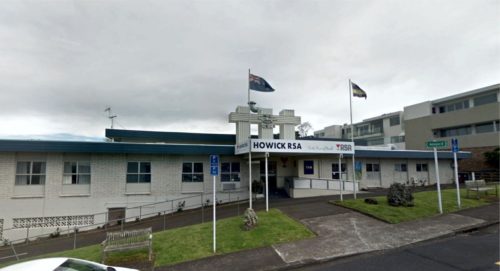 Howick RSA president Ray Sangster says the Eternal Flame and Ode of Remembrance Light will be transferred to Bosuns this Sunday, May 30, in a dignified and traditional removal "ceremony", followed by being parade marched down to its new temporary home.
The ceremony will be conducted at the RSA's Wellington St clubrooms facing the Wall of Remembrance.
Sangster says the RSA executive committee "wants to future-proof and build a base that will last another 100 years".
"We want to build a financial base with strong income streams. This includes bar and restaurant trading and potential income from apartments," says Sangster, of the planned new development at 25 Wellington St.
"We want to build a Howick RSA Club facility that meets the expectations of our members."
Sangster told RSA members on Saturday at a meeting attended by about 150, the Wellington St site redevelopment "concept plan has been developed into, in consultation with council, a package currently going through resource consent".
He says because of the extra time that's been taken up in planning, demolition and building works are now due to start in late October.
The redeveloped property will eventually include apartments, gym and car park, with the new RSA Clubrooms occupying a complete ground floor and be built in keeping with Howick Village's style and character, says Sangster.
The redevelopment is expected to take 18 months to two years, the period the Howick RSA will call Bosuns its temporary home. A Wall of Remembrance housing the Eternal Flame is being created there, framed with New Zealand and Australian flags.
Sangster, who has fronted redevelopment information meetings for RSA members regularly over the past two years, says the planning "has been a slow and time-consuming process".
"However, it adds considerable value to the project and substantially reduces any risk factor."
He invites all RSA members and the community to come to the Wellington St clubrooms for a final time this week, to celebrate its great service to Howick for 60 years, and for the "final deconstruction party" this Saturday night, May 29.
The executive has been in serious review mode over the past year, Sangster adds.
"We must consider and implement changes that will support the necessary growth."