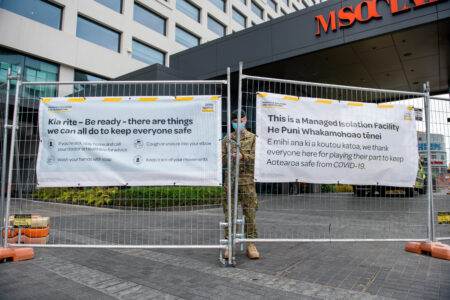 By Simeon Brown, MP for Pakuranga
With the Government now openly conceding that eliminating Covid-19 is not possible and warning that it will likely spread across the entire country, it's time to get rid of the systems holding us back from normalcy.
Easing restrictions in Auckland and in other affected areas is part of that but it's arguably more important to finally do away with the MIQ border system, which nowadays is proving far more detrimental than beneficial.
MIQ's original purpose was to keep Covid-19 out of New Zealand, to keep us all safe at a time when we were vulnerable. But the vaccine and it's widespread uptake by Kiwis, along with Delta now becoming far more prevalent within NZ, have made MIQ obsolete.
The only thing it's doing now is keeping families apart, preventing in-demand high-skill workers from contributing to our economy and killing the long-term prospects of our tourism industry.
In just a few months' time, New Zealand will have been closed to the world for 2 whole years, and while this approach was initially required and highly successful, the negatives now far outweigh the positives of a continuing national isolation.
New Zealanders are calling out for a return to our way of life, one built on personal freedoms and personal responsibility. More than 80 per cent of us have received both doses of the Covid vaccine and with 90 per cent of us having had at minimum of our first dose, it's time to move forward.
There are thousands of Kiwis trying to get home, many of whom have not seen their families since the borders were first closed.
There are even more migrants who want to bring their skills, knowledge and experience to help us rebuild the businesses which have suffered throughout and re-create the jobs that have been lost.
And there are many Kiwis who wish to travel to reconnect with family, to promote NZ businesses and products off shore or to visit another part of the world.
With Christmas around the corner, it's time to get rid of MIQ, open up our country once more and get back to normal. The sooner we accept that Covid is here to stay, the sooner we will learn to adapt and overcome, as New Zealanders have always done.