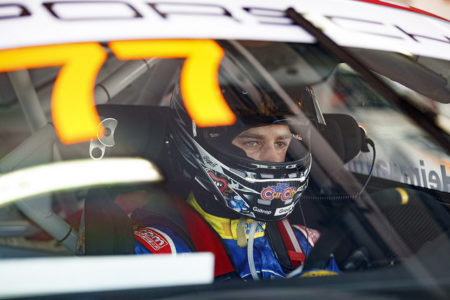 Andre Heimgartner has received a call-up to race in the FRD LMP3 Series this weekend at the Shanghai International Circuit.
The FRD LMP3 Series is the new premier prototype series in China. It is run by the Formula Racing Development (FRD) Group, which also operates the Asian Formula Renault Series and Ford's factory-backed Chinese Touring Car Championship program.
Heimgartner – who is a close second currently in the Carrera Cup Australia Championship and only recently returned from racing with that Series at the Sepang International Circuit – has been recruited by the Series to compete in the S&D Motorsports outfit alongside Australian racer and three-time Australian Formula 3 champion, Tim Macrow.
"This is a very exciting opportunity and when the call-up came through, I jumped at it," Heimgartner said.
"The S&D Motorsports team is very well-respected and I am really looking forward to seeing what I can do for them in Shanghai this weekend.
"I have been watching the FRD LMP3 Series with interest since it launched earlier this year, and have been very impressed by what I have seen.
"Tim Macrow is also obviously no slouch behind the wheel and has raced this car before in the Series, so I think we should make a good partnership this weekend."
The Series is quickly gaining momentum and has been described as being exceptionally competitive.
"I have heard some great things about this series, with one very well-respected racer being noted as calling it the most competitive LMP3 series in the world due to the fact you do not have to run a bronze driver under the regulations, so you can have silver-silver combinations," Heimgartner said, referring to the rules regarding driver FIA classifications.
"This is something to be very excited about, as the calibre of racers and the competition should be very intense – I can't wait to get in amongst it.
"A look at the entry list shows some very strong cars, some great names and some really slick racing operations, it is sure to be a great weekend."
The #25 car which Heimgartner and Macrow will compete in this weekend will be engineered by Australian Terry Stott, who is otherwise known for running Harvest Motorsport in Australian Formula 3.  Stott will be assisted by Nathan Tarlington, who engineered Macrow's F3-championship winning car at Alpine Motorsport in 2016.
This won't be the first time Heimgartner has driven one of Stott's cars before. While the Formula 3 car Heimgartner drove in 2013 competed under the Erebus Motorsport banner, it was in fact owned by Harvest Motorsport.
"The team that will be around us this weekend is very experienced and well-respected – they know what they are doing, and they have proven that on the track," Heimgartner said.
"I have had some face time with the those who will be engineering this weekend in the past also, so it is good to know there will be some familiar faces around as I take on this exciting new challenge this weekend."
Macrow said he was looking forward to working with Heimgartner in Shanghai this weekend.
"I'm looking forward to teaming with Andre this weekend," Macrow said.
"Having Andre join the team will be fantastic. He brings a similar open-wheel background to mine and I think that will help him adapt to the car quickly so we can contend for a result this weekend.
"The championship has attracted some real quality in its first year and the competition is strong, including a lot of guys I've been racing with and against for a long time.  It's been great to be part of so far."