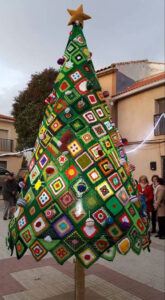 Howick Village Association's (HVA) community-led and creative knitted tree project is searching for wool.
The knitted Christmas tree will be displayed at Howick Village in the lead up to Christmas.
HVA has located a group of willing knitters to assist with creating the squares, but they are in desperate need for wool donations.
Any 8ply wool that is suitable for knitting and crocheting is welcomed
Donations can be dropped to Howick Village Optometrists – 94 Picton Street, Howick.
The donations will be distributed to the groups involved in the initiative.