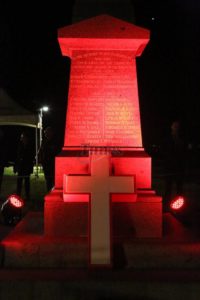 The glint of medals in the morning sun, a sense of pride, honour and camaraderie, an Anzac Day parade, a flight of Warbirds, the firing of the Minute Gun, laying of wreaths on the cenotaph at the memorial service at Stockade Hill – all marked the 102nd anniversary of the Gallipoli landings by Anzac troops.
The turnout at both the Dawn Service as well as the 11am service in Howick was huge.
"We may be rivals on the sports field but are comrades on the battlefield," said chair of Howick Local Board David Collings about returned servicemen and women across the ditch.
"The names of four World War I servicemen have been added to the cenotaph here on Stockade Hill. Researched by local historian Alan Le Roche, these men all had strong ties with the Howick area, and we acknowledge the four of them – Philip George Arniboldi, Thomas Corbett McLaren, Private Nicholas Colin Stitchbury and Charles Leslie Mounce."
Rev Richard Waugh offered prayers as he remembered those who, for the sake of peace, made war; as well as those who forsook all at the call of service. "The soldiers, sailors, airmen and women who went forth and never returned. The chaplains, doctors and nurses who saved others but not themselves. Lives all given in the Anzac spirit so we can enjoy the blessings of democracy and freedom."
View photos of the 2017 Howick RSA Anzac Day Services HERE
Howick Brass played Reflections, written by New Zealand composer Kenneth Young in memory of New Zealand Army bandsman Norman Goffin.
Emily Bennett from Howick College and winner of the Anzac day essay completion organised by Howick RSA, said:
"It's not just those who fought at Gallipoli that we remember today, but also all the service people that have represented our small but strong country in battle."
She spoke about her great grandfather who worked for the fire service in Liverpool, England and assisted with putting out the fires caused by the Blitz.
Members of the Royal NZ Navy, Royal NZ Airforce, Royal NZ Artillery, Merchant Marine, RNZAF Association, American Legion, Royal Canadian Legion, Royal British Legion, NZ Police, NZ Fire Brigade, Howick Volunteer Coastguard, 40 Squadron ATC stood at attention as the Last Post was played—while president Howick RSA Mike Cole and Mr Collings approached the cenotaph.
Students of colleges including St Kentigern, Macleans, Pakuranga, Howick College, Botany Downs Secondary, Sancta Maria, Elim Christian and Mission Heights Junior College; as well as students from Somerville, Farm Cove and Howick Intermediate Schools and other youth groups, Brownies, Guides, Cubs, Scouts, Young Mariners, Girls/Boys Brigade, Pathfinders—all assembled at the Stockade Hill to reflect and honour the fallen heroes at the special memorial service—lest we forget.