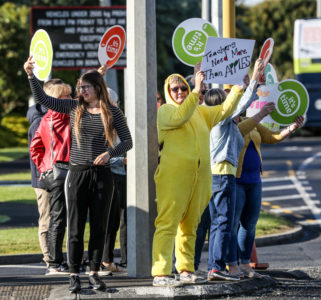 TTThere were plenty of people tooting in support and cheering local school teachers from east Auckland as they took to the streets to protest at busy crossroads on Monday morning.
It marked the first day of a rolling nationwide strikes this week after teachers voted overwhelmingly to take action in an effort to get smaller class sizes, more resources and significant pay rises.
Armed with banners and placards, a good representation of teachers from 32 primary and intermediate schools made their presence felt in different areas including traffic lights at the corner of Ti Irirangi Dr and Ti Rakau Dr; the intersection of Aviemore Drive and Pakuranga Road; the corner of Gossamer Drive and Pakuranga Road as well as the corner of Ti Rakau Drive and Pakuranga Road by the Plaza.
New Zealand Educational Institute site representative Sandy Good says the offer that the Ministry of Education came up with is "so last minute and not good enough".
"They have just shuffled the chairs on the deck, it's not really changing things for us. We are concerned about work load, about recruitment and retention, care for our special needs students. 600 extra teachers do not scratch the surface. We are not happy.
"We have slipped back in salary in the last 25 years. Several teachers don't even have enough money to have a union affiliation, which is quite sad."
She says the Government's offer gives them just $27 a week more.
"It's not much. We've lost two days of pay because of the strike action. People don't realise that we teachers spend a lot of our own money for so many things that we need in the class," says Good.
"We have a teacher who is a fresh graduate and now doesn't want to teach because of the poor salary and the poor working conditions.
"So many teachers are moving out of Auckland, including me, because they can't afford it. It's one of the reasons why I am going to move out and give up teaching."
Louise Condly, a teacher at Somerville Intermediate School, says, "It's high time we stop being a Cindrella portfolio for ministers. We are losing our best teachers because they are retiring young due to the increasing workload and no increase in pay."
A young teacher adds, "With the more experienced teachers retiring we don't have many teachers to look up to or be mentored by.
"Who is going to maintain the high standards of teaching?  It gets too hard," she says before heading to a meeting at Picton Centre in Howick where teachers and principals of local schools discussed their options. Another was held at Bucklands and Eastern Beach Memorial Hall.