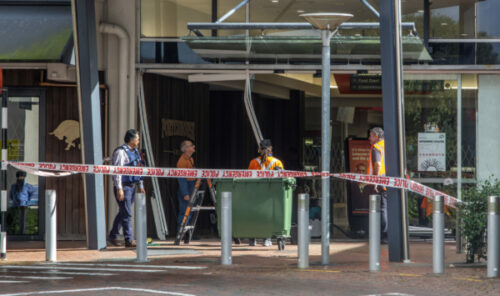 Police have made arrests in relation to multiple incidents involving theft and violence in east Auckland.
Three people are before the courts over an alleged ram-raid burglary at Pakuranga Plaza on April 12.
A police spokesperson says officers responded to an incident at the shopping centre at about 11.50pm.
"Police allege those involved used a vehicle to gain entry into the complex and have subsequently driven into a business to gain further entry within the complex.
"The vehicle was located at the scene and police making enquiries arrested three males aged 14-16 on April 28.
"They have all since appeared in the Manukau Youth Court and will reappear on May 15."
When the Times visited the scene the day after the ram-raid, police tape had been used to cordon off an entry to the shopping centre beside the Porterhouse Grill restaurant.
A police officer and security guard were present as were several people working to repair the damaged caused to the building.
Another photo, provided to the Times, showed extensive damage caused to the entry of a jewellery store inside the centre.
A security screen had been smashed in at the bottom with pieces of broken glass or plastic littering the ground.
Following the incident, Pakuranga MP Simeon Brown said he was "appalled" that the plaza had been ram-raided.
"Under Labour's soft-on-crime approach to law and order we're seeing ram-raids take place every 10 hours with businesses bearing the brunt," he said.
"We need clear consequences for the young people committing these crimes which National will deliver so we restore law and order in New Zealand."
Meanwhile, police have charged a person over an incident at Botany Town Centre on April 30.
The police spokesperson says officers responded to a report of a female allegedly assaulting a security guard at the centre at about 4.15pm.
"It's alleged the individual has then taken some items from a store before leaving the area on foot, however [she] was located by police soon after and swiftly arrested.
"The 38-year-old female appeared in the Manukau District Court on May 1, charged with shoplifting and aggravated assault and is due to reappear on May 17."
In a third recent incident, three people are before the courts over an alleged robbery at a house in Howick on April 4.
Officers responded to reports of an incident at a property in Haseler Crescent at about 3.50pm, the police spokesperson says.
"It's alleged a group have unlawfully entered the property and threatened two occupants.
"Those involved are believed to have left the property in one of the victim's vehicles, where police have monitored its movements with the assistance of [the] Eagle [helicopter].
"Three men, aged 22, 24, and 25, were located and arrested a short time later.
"They appeared in the Manukau District Court on April 5 and are due to reappear later this month."
Police data shows there was an almost 40 per cent rise in retail crime nationwide last year.
The Counties Manukau Police area saw an increase of 63 per cent.