By Farida Master
From the most deadly disasters come rock-solid relationships.
This was the amply illustrated at the 20 year Earthquake Remembrance Dinner initiated by chair of  Auckland Civil Defence, Cr Sharon Stewart along with Jeff Liu, director general Taipei Economic and Cultural Office in Auckland.
Search and Rescue teams from both New Zealand and Taiwan shared stories of rushing to each other's rescue when hit by mass destruction in Taipei and Christchurch.
Bryce Coneybear one of the members of  Search and Rescue team that flew out to Taiwan's just hours after an earthquake of  7.6 magnitude hit Taipei 20 years ago said, "Sometimes the brain cannot comprehend what the eyes see. The building that we were in the day before had punched down three levels in the car park. Something good comes out of everything bad. Taiwan helped us to build the capability to deal with the worst disaster in Christchurch. And we are still learning every day from that experience."
Giving credit to the valiant deeds of gallant firemen, Sir Barry Curtis spoke about the earthquake of 6.3 magnitude that hit Christchurch eight years ago causing severe and widespread damage.
"While Christchurch and its people are still coming to terms with it, firefighters from Taiwan responded immediately and helped to overcome the serious consequences. In her role as chair of Auckland Civil Defence, it was Cr Sharon Stewart that got things moving."
Sharon first contacted firefighter Mitchell Brown, a Howick local then and asked if he could get a Search and Rescue team ready to fly to Taiwan within a couple of hours to help the earthquake-struck city.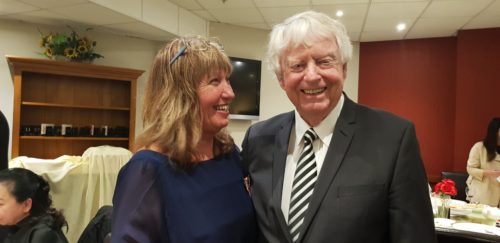 On finding out that there was no budget available to fly the brave men over, Sharon immediately got in touch with the influencers in the Taiwanese community who sprung into action to send New Zealand's first-ever NZ Search and Rescue to fly out to an international disaster.
Local Howick residents YS Hsieh, CK and Nancy Shih, Jimmy Huang and many others dug deep as they put a team of New Zealand Specialist Search and Rescue on a direct flight to Taiwan.
The Reunion Dinner hosted on the weekend had two of the firefighters who had flown to Taiwan in their hour of need, members of the Tzu Chi Foundation in East Tamaki known to help people who've been hit by natural disasters; members of Civil Defence  not only from New Zealand but also from Taiwan at the Grand Park Chinese Seafood Restaurant.
The event was well attended by prominent members of the Taiwanese Community including Jerry Shih president of the Taiwan Business Association as well as Bruce Linghu, deputy mayor Taichung city, Taiwan.