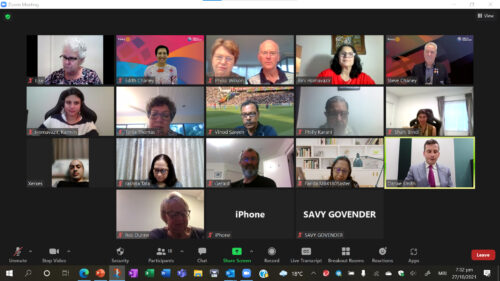 Rotary Club of Somerville fought Covid-19 odds to raise $3060 for polio eradication.
October is Rotary International's End Polio Now Month and October 24 was End Polio Now Day.
Each year Rotary clubs across Australia, New Zealand and the Pacific Islands rise to the challenge of helping raise money to achieve the End Polio Now goal.
Prior to the current restrictions, Somerville Rotary were planning on inviting friends and family of club members to a restaurant, where guests would donate $10 each towards the cause.
David Seymour was invited to be the guest speaker at the restaurant as his mother, Victoria, was one of the last people in the Western World to contract polio as a baby.
The event was cancelled due to the Covid-19 lockdown. The club decided to sell raffle tickets to win a range of items donated by the members, Somerville Rotary's president Bini Homavazir says.
"We sold tickets to family and friends," Homavazir says. "I like to say that we're small in number but mightier than most."
Somerville Rotary's $1530 collection in raffle funds will be matched by the club itself, raising it to $3060. When the donation gets to Rotary International it will be matched by the Bill and Melinda Gates Foundation on a 2:1 basis, taking the sum to $9080.
"It's a very debilitating disease," Homavazir says.
On October 27 club members had a Zoom call with Rotary district governor Steve Chaney, his wife Edith, and guest speaker David Seymour.
"David was the highlight of the evening," Homavazir says. "He was very inspirational."
The founding partner of the Global Polio Eradication Initiative, Rotary has reduced polio cases by 99.9 per cent since the first project to vaccinate children in 1979.