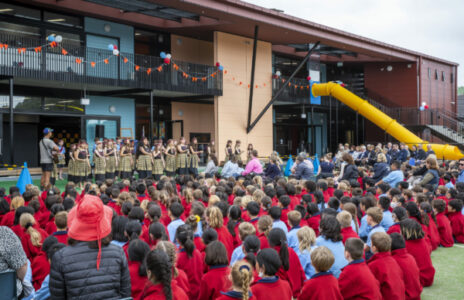 An east Auckland school's eye-catching new classroom block has earned a major architecture award.
The $13 million Alan McIntyre Centre at Owairoa Primary School in Howick was opened in September last year.
It's named in honour of the school's current principal, who's held the role for more than 30 years.
The building is the work of design firm RTA Studio.
It's among the winners in the education category of the recently announced 2023 Auckland Architecture Awards run by Te Kahui Whaihanga New Zealand Institute of Architects.
The awards judges say its "bold and playful exterior contains a calm and responsive learning environment, which clearly talks to the architect's command of achieving balance across complex briefing requirements".
"Highly legible and straightforward planning strategies deliver a variety of learning spaces through a mix of focused, enclosed and communal environments.
"Skilled management of brief, budget and project execution results in a highly sustainable building that generates enough renewable energy to power the building and give back to the grid.
"Carefully navigating the specific needs of the Ministry of Education, the school, their whanau and wider community, this project talks to the value of strong, collaborative, client relationships."
Pakuranga MP Simeon Brown helped the school's newest pupil, Frankie Collings, cut the ribbon on the building at its official opening.
Guest speakers on hand to mark the occasion included Ministry of Education regional asset manager David Bos and Owairoa Primary School board past member Bruce Howard.
The building is fully landscaped with native plants and features solar power generation, rainwater tanks for toilet flushing and water, six fully equipped kitchens and a special slide from the top to bottom floor.
McIntyre says the school is "extremely proud" to celebrate its new building being recognised in such a way.
"The dedicated and talented team of architects from RTA Studio heeded our complex brief, designing our 18-classroom 'Alan McIntyre Centre' to become an innovative, sustainable and contemporary classroom facility at the cutting edge of educational delivery here at Owairoa Primary School for many years to come.
"We congratulate RTA Studio on this prestigious award, which showcases their exceptional work, attention to detail, and ongoing commitment to innovative and sustainable designs in the architectural industry."
A statement on the RTA Studio website says the firm's brief from the Ministry of Education (MoE) was to create a master-plan to suit 865 students and to cater for future growth.
"To achieve this, 12 existing poor quality single-cell classrooms and six temporary classrooms were to be removed and replaced with 18 new … teaching spaces.
"The design response provides a new teaching facility that cleverly balances the aspirations of the MoE brief for designing quality learning spaces and the strong pedagogical drivers outlined by the school's senior leadership team.
"It integrates and enhances the connectivity and urban fabric of the canvas, maximises a previously under-utilised area of the existing site and reflects the school's identity and values as a significant contribution to the students and school community alike."