Vanessa Hancock is thrilled that she is the first primary/intermediate school teacher in New Zealand to be selected for a life-changing professional development experience at the Yad Vashem: The World Holocaust Remembrance Centre in Israel.
Mrs Hancock will be a part of a group of 25 educators from New Zealand that will journey to Israel for the Educators Seminar in January 2019 that will inspire and empower them with knowledge to impart to their school communities.
Another teacher from the area who will be on the same journey is Kaitlin Bethell from Ormiston Senior College.
"I am both humbled and deeply privileged," says the Somerville Intermediate teacher who will take part in a 17-day intensive professional development programme in Israel.
The Year 8 teacher, who has always been very passionate about making her students aware of the Holocaust through the lens of fiction, is known to encourage her students to make connections through the novel series by Australian author Morris Gleitzman.
"The holocaust was not an accident in history; it occurred because individuals, organisations and governments made choices that not only legalised discrimination but also allowed prejudice, hatred and, ultimately, mass murder to occur," says Vanessa.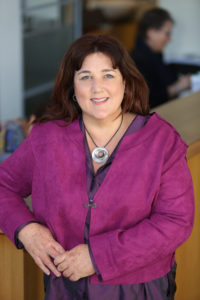 She puts the holocaust in a modern-day context for students to think about the dangers of remaining silent, apathetic and indifferent to the oppression of others.
"Most students demonstrate a high level of interest in studying this history precisely because the subject raises questions of fairness, justice, individual identity, peer pressure, conformity, indifference and obedience-issues that confront us in our daily lives.
"I always tell my students that it is important to be an upstander and not a bystander."
She says that the 12 and 13-years-olds she teaches are also affected by and challenged to comprehend the magnitude of the Holocaust. They are often struck by the fact that so many people allowed this genocide to occur by failing either to resist or to protest.
Mrs Hancock says she particularly enjoys moments of epiphany in the classroom when children see the passion and form a link.
"Some of them get teary-eyed about why it happened. This is a great age to introduce them to the values of justice.
"In the past we've also had National Education director Chris Harris from the Holocaust Centre arranging holocaust survivors like Bob Narev and his wife who shared their moving story of survival with the students."
Mrs Hancock says she is grateful to principal David Ellery and staff at Somerville Intermediate for the supportive environment that has made her dream come true.