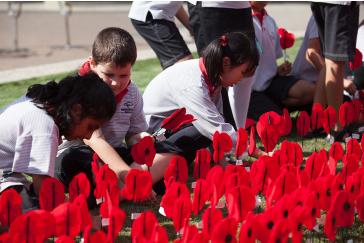 Thousands will gather throughout the district to mark Anzac Day next Tuesday.
The biggest of the commemoration events will be the Anzac Day Dawn Parade on Stockade Hill. The parade will gather at Mellons Bay Road by the large pine tree at 5.45am and will march to Stockade Hill at 5.55am with the service beginning at 6.10am. It is expected to end at 6.30am.
The later Anzac Day service will see the parade gathers on Mellons Bay Rd at 10.30am with the march beginning at 10.45. It will arrive at Stockade Hill at about 11am where the minute gun – an army 105mm howitzer by the Christmas pine tree – will fire a blank round to signify the start of the service.the service is expected to finish at 11.45am.
The annual Peace Poppy Planting ceremony will be held on Friday at 1.30pm at Botany Town Centre.
More than 2000 poppies, which were crafted in 2015, will again be planted in the remembrance gardens throughout the centre as part of the 102nd anniversary of the first major military action fought by New Zealand and Australian forces during the First World War.
Meanwhile, the Beachlands and Maraetai Anzac Day Dawn Service is at 6am on Anzac Day at the RSA memorial at Sunkist Bay.
The cenotaph is mainly due to untiring efforts of returned serviceman John Harris who worked hard to ensure that locals had their own RSA memorial. It is located at one of the most picturesque spots in the area.
"We have around 150 poppies we made last year and an additional 75 to go around the memorial that the children of Beachlands have made," he said.