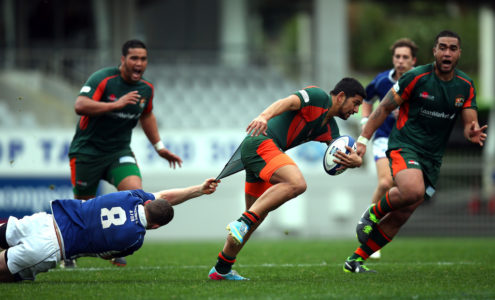 In a first for PIC Insurance, Brokers, Pakuranga United's two long-serving Premiers ran out on Saturday (July 6) on Bell Park to play their 100th games together against Waitemata in what has become a real East v West derby in recent times.
Midfield Back Saleaula (Aula) Silipa (28) and hooker/captain Michael (Beefy) McBeath (29) have both been premier leaders in the revitalisation of Pakuranga rugby over the last 10 years and becoming centurions together had them amped for a big game.
"Pakuranga looks after its players from its youngest to us Premiers" said Silipa "The old boys make a real effort to ensure not only our rugby but our working lives and families are top priority."
McBeath said: "Having been at the club since U7s, this place is my life, it's a part of me and it always will be, I can't wait for Saturday."
Saleaula Silipa
Aula started his Rugby with the club in the summer of 2008/9 for the 7s side as a 17-year-old graduate of Edgewater College. He was spotted by then RDO Thomas Cole (Noodles) who soon had him hooked on the club playing for the U21s before debuting for the Premiers in 2010 against East Tamaki.
Age: 28
Debut: 2010
Premier caps: 100
Favourite game: The 2013 Gallaher Shield semi-final against a stacked Grammar Tec side. I don't think there has ever been a better atmosphere on Bell Park ever. The crowd was amped!
Most influential team mate: Charles Piutau, the man was great to play with and a real humble guy.
Favourite team mate: Dwayne Polataivao, he inspired me with every game he played and we had a lot of laughs off the field as well.
Favourite thing about the club: The people -I love the way the older members look after us younger ones. Every time I needed a job, someone in the club was there to help me out.
Michael McBeath
Beefy started his rugby at the club in 2007 as an U7 player (funnily enough it was for the Pumas), He then played all the way through to the U15s before playing for Howick College and Sacred Heart College. He was soon back to play U19s and U21s before debuting for the Premiers in 2012 against Mt Wellington. After a 2-year stint in England, he came back and is currently captaining the side. A more prouder Pakuranga man we don't think you would find.
Age: 29
Premier caps: 100
Favourite game: The round robin game against Grammar-Tec in 2013, I can't remember the score but it was a real cracker!
Most influential team mate: Hands down G-Money (Gareth Arlidge), He organised our team so well for many years.
Favourite team mate: Adam Darracott (Heavy D), we have had so many good times together both here and in England.
Favourite thing about the club: This place is my home, it's a huge part of me and always will be. I have made so many great friends over the years.