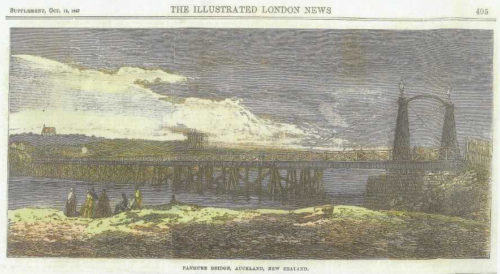 As Howick and districts count down to the 175th anniversary, the Times continues its series giving readers a glimpse of life as it used to be. The countdown began at the 170th in 2017
By Alan La Roche
From 1845, Hemi Pepene operated a ferry service rowing passengers in his rowboat across the Tamaki River.
This Maori farmer was known for his entrepreneurial harvesting of his crops of wheat and oats, selling the bags of grain to the Australian goldfields for far better prices than offered by Auckland flour-millers. He had several farm labourers even including a European servant.
Some years after the Fencible soldier-settlers arrived in Howick, the Government took over the ferry service, using a hand-operated clumsy winch and chain that was free from 6am until sunset, but fees applied during the night for the operator. Irritated passengers queued often for over an hour and horses swam across beside the punt. Howick residents, especially farmers, demanded a bridge to get their bags of wheat or oats to the Auckland markets.
Auckland Provincial Council held local meetings focused on "who will pay for the bridge?" Suggested a poll tax or a toll on all who use the bridge?
Council advertised for a design. The cheapest design was accepted and he was given the £50.
Fourteen Pakuranga landowners signed up as guarantors to pay interest on the funds until tolls were charged. And 120 Totara piles up to the impressive 19m long [65 feet] were felled in the Mahurangi bush.
Once rammed into the sandstone base they were sheathed in brass alloy muntz metal to protect the piles from teredo worms. The wooden section 195 metres [640 feet] long was built of kauri beams with kauri decking. Large granite stone abutments were quarried in Melbourne as the East Tamaki lava stone was not strong enough. William Weaver, engineer-in-chief to Auckland Provincial Council, had studied under the famous Isambard Kingdom Brunel (an English mechanical and civil engineer) in England, supervised the construction.
The iron section incorporating a 40 foot swing-span was built and erected by Russell and Company in Sydney before being sent to Auckland.
At the official opening in October 1865, the last stone abutment was tapped into place by Robert Graham, superintendent of Auckland Provincial Council, followed by a substantial lunch for more than 100 guests in a large marquee beside the Panmure Redoubt below St Matthias Church.
After many toasts and a meal, a dance was held which included the lively fashionable "Sir Roger de Coverley" and everyone went home very happy.
The abutment roads were soon built and Howick's horse buses could reach Auckland in less than two hours. Almost as good as in 2018! Large crowds came out to see the new engineering structure. But by 1913 a new bridge was needed as the kauri decking was rotting.
In 1916 a new wider concrete bridge was built. Using sea water to mix the concrete, sand off Bucklands Beach and poor steel due to World War I restrictions, cracks soon appeared and in 1960, the present (2nd) Panmure Bridge was opened.
The iron section of the 1865 bridge was recently restored with financial help of Auckland Council. The marina buildings are soon to be demolished to make way for dual designated bus-lanes over a new third bridge over the Tamaki River.
Alan La Roche, Howick Historian