Pakuranga College is leading the country in money raised for Shave for a Cure by a school.
It comes after more than 40 students and staff had their heads shaved at the college last Thursday, September 21.
More than $28,000 has been raised by Pakuranga College to date.
Year 13 pupil Christli Ismail says she decided to shave her hair because one of her friends was diagnosed with cancer in year eight.
"I actually participated in Shave for a Cure that year, but I was scared to shave my head, so I cut my hair quite short instead. It felt like unfinished business, so this year I decided to do a proper shave," she says.
Christli says, thankfully, her friend has made a full recovery, but she wanted to finish her time at school on a high by doing something to honour her experience and help others going through that currently.
"I'm amazed at how much has been raised, it's really special to be part of it," she says.
Christli's hair was shaved by her dad Alberto, who says it was nerve-wrecking because it was so beautiful.
"She got a bit emotional, so I was just trying to keep it together for her.
"We are super proud and fully support her decision to shave. We understand why she's doing it and it's only hair, it will grow back," he says.
Christli says the event was a family affair with her mum also watching in the audience.
Year 11 student Auri Law says she decided to shave her hair for the amazing cause and donate it to make a wig.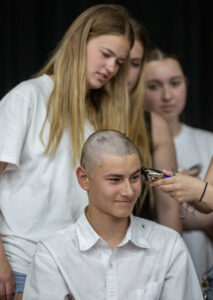 "This is the second time I'll be donating my hair to make a wig, but it's the first time shaving my head.
Law says her nana passed away from cancer earlier this year and this was a great way to honour her.
"I've got support from all my family, who have been helping me fundraise," she says.
If you want to donate to Pakuranga College's Shave for Cure efforts, visit the link www.shaveforacure.co.nz/schoolsleaderboard.