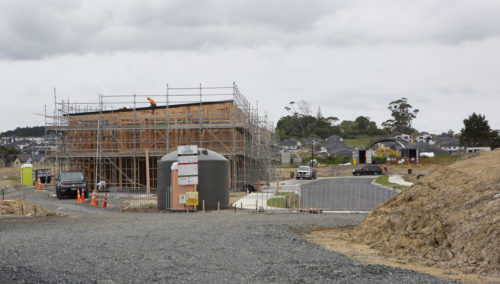 Agreement has finally been reached on the names assigned to three new public roads being built in east Auckland.
The Howick Local Board was initially asked to choose names for the roads, located in a subdivision being developed in Murphys Road, Flat Bush, at its November business meeting.
The developer provided the board with its preferred name options, being Pigeonwood Place, Shortfin Place, and Wynnestead Drive.
It also offered multiple potential alternatives, including Pararahi Drive, Omihi Way, and Pihi Avenue.
A report provided to the board for its November meeting stated mana whenua were consulted on the new road names in accordance with Auckland Council guidelines.
Multiple mana whenua groups were contacted by the council on behalf of the applicant, it said.
"Te Ahiwaru Waiohua deferred to Ngai Tai ki Tamaki, who in turn did not respond.
"No other iwi provided responses or comments or suggested any other road name options."
As part of that consultation, the board received a letter from Zaelene Maxwell-Butler of Ngai Tai ki Tamaki.
Her letter said Ngai Tai ki Tamaki wished to provide names for the roads.
It opposed the names proposed by the developer as they have no "historical, cultural or ancestral linkage to the area".
"We categorically oppose the Maori names given [as options]."
Maxwell-Butler wrote that the names preferred by Ngai Tai ki Tamaki for the first road were Te Ara Tatai Whetu, Hoeroa Road or Tuahangata Road.
Its preferred options for the second road were Te Ara Pou Waho, Te Ara Pou Roto or Te Ara Kaiwhitiki.
Its preferred option for the third road was Henry Maxwell Way.
The board was unable to reach a consensus on the names at its November business meeting and deferred the item to its next meeting.
At its meeting on December 3, board chairwoman Adele White said the potential road names before them were Pigeonwood Place, Omihi Way, and Henry Maxwell Place.
Board member David Collings moved an amendment that the name Omihi Way be replaced with Shortfin Place, as per the developer's wishes.
He said information the board had received from its consenting staff "indicated the developer was okay with the alternative name for road three but was quite firm or would rather see the first options for roads one and two".
"I think developers go through a lot of work to develop these things.
"I think it's a bit of a concession to agree to an alternative for road three which was outside what they applied for."
Board deputy chairman John Spiller said he wanted to give more weight to the fact Ngai Tai ki Tamaki had responded to a request for feedback on the proposed names.
"There's a number of road namings in here where they didn't respond because it wasn't of such significance to them.
"So that's why I think we should stick with Omihi [Way] on this one."
White said she agreed with Spiller.
"I think we have a blend of names here.
"We've chosen the one te reo name and two others, so I won't support the amendment."
The board passed Collings' amendment to replace the name Omihi Way with Shortfin Place.
It went on to vote to assign the names Pigeonwood Place, Shortfin Place and Henry Maxwell Way to the three new public roads.