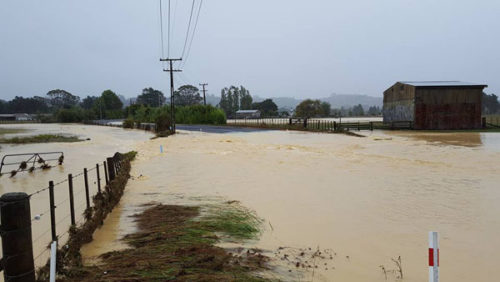 See more storm damage photos here.
Severe localised flooding has caused damage and disruption to areas of Auckland's south eastern coast and inland Papakura.
Drivers are urged to drive with extra care in the Beachlands, Maraetai, Kawakawa Bay, Papakura and surrounding areas and are reminded never to drive through floodwaters.
Auckland Council's head of emergency operations Adam Davis has been in the affected areas throughout the night and says that many properties in the Papakura, Kawakawa Bay, Beachlands and Maraetai areas are directly affected by flooding and local roads may be closed or affected by slips.
Upwards of 200 schoolchildren and adults were evacuated from YMCA Camp Adair in the Hunua Ranges.
Those stranded were evacuated by bus from Camp Adair to a community-led centre at Hunua School. All Camp Adair children are now either back at school or at home.
Hunua Falls Camp – evacuation of around 150 children from Hunua Falls Camp on Falls Road, Hunua is now complete and the children are now at Hunua School awaiting collection for their journey home. Access to the camp had been blocked by a fallen tree and flooding on the road. This was cleared by emergency services and the military.
Tapapakanga Regional Park campground – 30 campers have been evacuated to Orere Point where they are being looked after by the local community. They will remain at Orere Point until local roads into the area have reopened. The group has been overwhelmed by the hospitality of the local community.
Ongoing weather conditions
The severe thunderstorm watch has been lifted and the worst weather appears to be over for today. Metservice is expecting further bursts of heavy rain from Friday through to Sunday.  This may lead to additional localised flooding, slips and debris on roads.
Auckland Civil Defence recommends keeping a close eye on stock and moving animals to higher ground in areas prone to flooding.
"Emergency services will continue to support those directly affected and we should see rain easing in the next few hours and flood waters starting to recede," he said.
"As we head into the morning commute we're asking people to be patient and sensible. Roads are closed due to slips, conditions are messy and slippery, and areas are flooded.
"Attempting to drive through floodwaters can be disastrous for vehicles and requires emergency services to rescue people — we don't want to see any more of this happening.
"Consider delaying travel in these areas until floodwaters have receded," he says.
Roading
Several roads remain closed due to flooding, slips and fallen trees, specifically in the Kawakawa Bay and Clevedon areas. Emergency services and Auckland Transport are working to assess and clear these roads as quickly as possible, however some areas may be affect for days to come. The attached map shows the extent of the Maraetai, Kawakawa Bay and Clevedon closures.
Debris and flooding will be affecting other local roads and people are urged to drive with extreme care. Do not attempt to drive through floodwaters.
Regional parks closed
Due to heavy flooding, five Auckland regional parks have been closed and park campers have been relocated to higher ground.
Tapapakanga Regional Park – major slips and flooding
Hunua Ranges Regional Park (including Hunua Falls, Wairoa and Moumoukai valleys) – major slips, limited road access and flooding
Waitawa Regional Park – major slips and flooding
Duder Regional Park
Waharau Regional Park
There is no public access allowed at these parks until further notice. Engineers will assess tracks, bridges and slips both in and around these parks once the weather subsides.
Stormwater and flooding
The council's contact centre has taken more than 150 emergency requests that cover everything from blocked drains and manholes, flooded and blocked watercourses and streams, and rising water levels that could cause harm.
Some of these will be immediately resolved by emergency services and others referred on to the council's contractors.
The council has also had more than 50 reports of road flooding in the south and central area and around 20 house flooding incidents reported.
Flood waters should slowly recede throughout the day. Further rain is expected later in the week but at much lower intensities.