As many as 50 households, most in south east Auckland, are still without power following widespread flooding in the district overnight.
And energy company Vector, which has issues regarding access for repairs, says problems aren't over with two cars taking out power poles and more heavy rain due overnight.
South east Auckland update
Due to extensive flooding and slipping, Vector says crews are currently unable to access damage causing outages in Whitford, parts of Takanini and Papakura, Clevedon and Kawakawa Bay.
"Critical roads are officially closed until at least 10pm tonight and it would be unsafe for crews to enter or work in the area," a Vector spokesperson says.
"This means it's very unlikely many residents will have power restored overnight and we are working with police and other contacts to keep the community updated.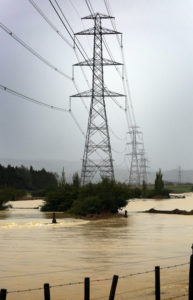 "We will reassess the situation the situation further and in the meantime we're looking to survey and repair damage to the network via helicopter. "
Vector is asking people to keep away from, and report, downed lines and also to drive to the conditions as there have been two car v pole crashes today.
People with internet access can keep updated via our outage map at www.vector.co.nz/personal/outages
Auckland in general:
The numbers of households affected has fluctuated throughout the day as Vector works to repair damage in some areas and other outages pop up.
"At the moment we have 13 outages and most have been reduced down to 50 or less households affected," says Vector.
"We have had two car v pole accidents in Papatoetoe we will work to repair.
"Apart from a larger outage in Taupaki (in Rodney), the bulk of households affected by outages are in south east Auckland. We are expecting more heavy rain overnight and into the weekend which will keep crew busy."
www.vector.co.nz/innovation-news/heavy-rain-in-auckland-causing-flooding,-outages
Update on flood situation as at 9pm Wednesday, March 8 from Hunua MP Andrew Bayly

People
People who were holed up Orere School left for Manurewa at 6.40pm tonight
No other reports of people in trouble
Roads
Road between Kaiaua and Clevedon opened at 6.45pm but requires 4 wheel drive – down to one lane in many places.
Maraetai Coast Road opened this afternoon but 4 wheel drive recommended
Power
Late tonight power back on in most of Kawakawa Bay but still no power in Orere
Power on in all other locations
Water and Wastewater
Cossey Dam full and other dams in the Hunua Ranges close to full
Beachlands wastewater treatment station working but Kawakawa Bay treatment station not operational
Farms
Some stock still loose in the area but farmers have done a great job looking after/retrieving their stock
Widespread slips on farms that have ruined many fences
Given the forecast for further rain, it is essential that everyone continues to look out for their neighbours, keep safe and don't use the roads unless necessary.  Everyone is doing a great job.
I will be updating my Facebook – Andrew Bayly MP – and website – andrewbayly@national.org.nz – as further information comes to hand. Alternatively you can call me on 021766100.