Move over Ryan Fox, east Auckland could have their next professional golfer on the way.
Year 13 Botany Downs Secondary College (BDSC) pupil Jordan Jones is on the brink of picking up a golf scholarship in the USA.
The 18-year-old first started golfing at the age of two with his dad who took him along to the driving range to keep Jordan's mum happy.
"It wasn't long before we were approached by a local professional called Jan Higgins who offered to coach me based on the potential she saw," he says.
In his short career, he has notched up a number of victories and accolades.
In October last year, the Times reported on his biggest title to date, winning the Auckland Men's Match Play Championship.
Since then, he has continued to add to his already impressive golfing CV.
Earlier this year Jones won Pakuranga Golf Club Men's Match Play event with an impressive showing and record score in the final.
"I have been a member with the club for more than 10 years and I badly wanted to get my name up on the club champ board inside the clubhouse," he says.
With the hopes of landing a college scholarship in the USA next year, Jones made the trip to Los Angeles in July to play in six junior elite tournaments.
During his trip he also attended a top 100 training camp with college coaches in Texas.
Jones won three of the six tournaments and finished second, third and fourth in the other three events.
"What made it special was that I needed to perform well in order to get good results on USA soil and help with my prospects of picking up a college golf scholarship," he says.
Jones was also nominated for Auckland College Sport's Young Sportsperson of the Year in 2021 and 2022 and was a finalist last year.
Jones says he has had many influences over his short yet very successful career, particularly his current coach Kerryn Jamieson, based at the Pakuranga Golf Club and Windross Farm.
"He is an excellent coach who can clearly articulate what he's teaching me, but also makes sure I understand what I'm learning so that I can work on things independently," he says.
Jones practices daily at either the Pakuranga Golf Club or Royal Auckland. He is also at the gym six days a week, working on his strength and conditioning.
Jones says growing up in the same area as in-form professional New Zealand golfer Ryan Fox has been an inspiration.
"It is great to be able to look up to him and know that what I am trying to achieve is possible," he says.
His parents have also had a great influence on his career, particularly his dad Dion.
"He's always reassuring, positive and calming regardless of if I'm playing good or bad," Jones says.
As for the future, Jones is currently focused on completing his final year of schooling at BDSC and aiming to secure a golf scholarship at a college in the USA, with the ultimate goal after graduating of turning pro.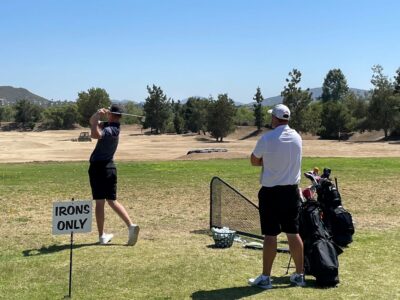 Deputy principal of BDSC, Debbie McGregor, says the school is very proud of what Jones has achieved during his time as a student.
"His determination to reach his goals representing Auckland at the junior and senior provincial level is to be congratulated.
McGregor says Jones' highlight for BDSC this year was winning the Auckland College Sport stroke play championship in June with a total gross score of 130 over two rounds (66 and 64).
"I have enjoyed watching him play many games over the last five years. Talent and commitment can achieve these results," she says.
For anyone wanting to follow Jones' journey, his Instagram username is jordan.joness23.
"I just want to say a big thank you to my friends, family, club and teachers who have supported me so well over the years as I work towards my goals," says Jones.