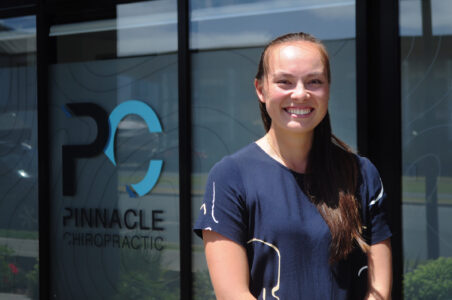 A new chiropractic practice has opened its doors at Pine Harbour Marina.
Chelsey Mokhtar moved from Nelson to Beachlands to be closer to family. With five years under her belt, Chelsey started her own practice Pinnacle Chiropractic in mid-January (51 Ninth View Avenue). Her husband Adam is set to join her in Auckland soon.
"I've always wanted to do something in the health care profession and I've always been interested in helping people," Chelsey says.
Pinnacle Chiropractic offers a wide range of techniques to people of all ages.
"We do offer the structural type adjusting but we also do techniques that focus on your overall health, your emotions, how you're organs are functioning individually and can check your allergies as well," Chelsey says.
The practice aids with people suffering from stress, lower back pain, neck pain and headaches and offers supplements.
"We also look at lots of other things too like digestion," Chelsey says. "It's for anyone that is looking to improve their overall health and well-being."
Chelsey told the Times it is a rewarding profession.
"Getting to be a part of someone's journey is pretty cool."