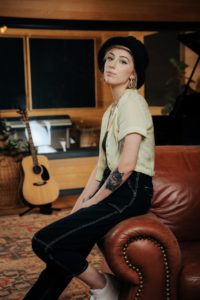 Howick local Christabel Williams has taken New Zealand's singing competition Popstars by storm.
Popstars is the modern adaptation of the 90s version that produced the girl group TrueBliss.
Williams, 20, is a "whimsical, uniquely-vocal powerhouse capable of many genres".
She sings, writes her own songs and plays the guitar, piano and ukulele.
"I taught myself how to play instruments," Williams says. "I can't read music very well, but I can pick it up by ear."
She once learnt Metallica's 'Nothing Else Matters' on piano in under an hour.
Williams spent her childhood and teenage years in Howick. Her mother remembers her singing nursery rhymes in her sleep.
One of her earliest memories is writing a song when she was six. She attended Howick College.
"I always struggled at school," she says. "I'm very creative. There isn't an academic bone in my body."
William's first palpable taste of her musical ability and love of performing came in the form of a school talent show at camp.
"I was the weird kid," she says. "When I got onto stage and sung, people were shocked."
She mentions the feeling she felt afterwards was one of the reasons that made her think,
"Yes, this is what I want to do."
Williams was the first competitor to get a "yes" from all three judges (Kimbra, Vince Harder and Nathan King) and a call back card.
She saw an advertisement for auditions on Instagram.
"Originally I didn't complete my application," Williams says.
She was encouraged to do so by her flatmate. Now Williams has made it into the top six of the hit show.
"It's been a wonderful experience," she says. "I've been taught a lot."
She enjoys a broad range of music.
Often her singing voice and style has been compared to Amy Winehouse or Lady Gaga, both of whom she enjoys listening too.
"When I sing a song, I like to make it my own," Williams says.
Prior to Popstars Williams performed at two Miss World ceremonies, played self-set gigs in halls, was hired for bars and was a part of a band.
Additionally she collaborates with a local producer, Chequered Pattern.
"I met him at school," she says. "We have an EP on Spotify called 'Vanilla.'"
Williams' favourite experience so far on Popstars has been performing at the Hollywood where she sung Lady Marmalade by Labelle.
"It was very high energy," she says. "The opposite of what I usually sing and play, which is more moody, low-key music."
While the experience has been incredibly rewarding, it has been anxiety-inducing because of the pressure and the time-constraint challenges.
"My ADHD can sometimes make it hard for me to work within the time required as I'm used to doing things at my own pace," she says.
Still, Williams has felt that she has learned how to keep herself steady.
The vocal coach – as Williams has never had vocal training – has been a blessing, Williams says, as she's taught her to do things with her tone and voice.
Additionally, Popstars has made her realise how much her music could improve.
"It's just been great," Williams says. "The support from my family and friends has been overwhelming."
Popstars airs from Monday-Wednesday at 7:30 pm on TVNZ 2.