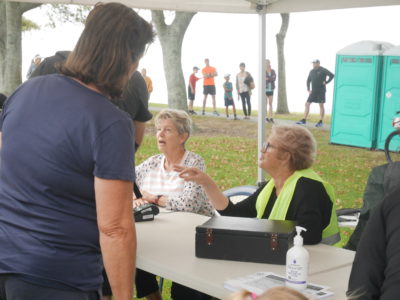 Howick Rotary Club has celebrated its 10th year Fun Walk and Run with a record number of entrants and local schools participating.
Thirteen primary and intermediate schools joined this Sunday's Fun Walk and Run. Over 200 registered online and another 130 on the day's registratration. Additionally 100 teachers and parents participated in the event. Numbers competing the course exceeded 600.
John Osborne, Howick Rotary's Chair of Organising Committee, says this is the most participation they've ever had. "It is definitely bigger than last year," he says. "It might be the most participation we've ever had".
The Fun Walk and Run was held at Stockade Hill, Howick. It was supported by the Howick Local Board who provided funding.
Primary school students ran and walked the 5.9k course. Intermediate students completed the 6.9km course. There was also an 8.1km extended course for those who wished for a harder challenge.
Throughout the course the road junctions were manned by volunteers from Rotary, the Howick Volunteer Coastguard and senior students from Howick College. There were over 40 volunteer staff, including marshals.
Water stations were set up to keep and encourage students to keep hydrated.
The Fun and Walk Run is a family-centric event.
"We encourage participation to run and walk, or even bring your dog," John says.
"Not only is it exercise to keep the students and parents healthy and active, but it's excellent for bonding and quality family time."
Nicole's son was one student from the 13 local schools participating in the event. "I ran it with him!" she says. "It was great fun! My son and I both loved it".
There were over $3000 worth of prizes provided by local businesses in participants were able to win a large barbeque donated by Mitre 10 Mega, a bike from My Ride and an electric scooter by PBTech.
Other prizes included were gift vouchers and complementary tickets from Dilmah Tea, Monterey Theatre, and many more local businesses. Additionally, there was a separate draw that allowed participants the chance to win a $300 shoe voucher from Athlete's Foot.
"A Howick Local Board member, David Collings, generously provided the Fun Run with his large mobile stage at no cost," John says.
"It provided a marvellous backdrop for the site".
Students were awarded medals for completing the race. Cups were presented to the first team of four runners, from Primary and Intermediate schools, to cross the finish line. Shelly Park and Farm Cove won the Primary and Intermediate School Cup, respectively.
"It was a great success," John says. "Everybody loved it!"
All funds raised from the Howick Fun Walk and Run is donated to the Howick Coastguard.