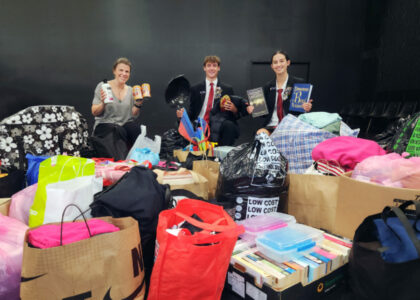 Howick College student leaders have banded together to help aid the Hawke's Bay community following the devastation left by Cyclone Gabrielle.
After getting in touch with Hastings Girls' High School, it was agreed between the two schools that care packages and monetary donations would be of greatest benefit.
Howick College head students Mitchell Carr and Tiana Thompson are at the forefront of the cause.
"We decided to do this because there's a very real need, and we're fortunate to be in a position to provide meaningful support to the recovery from the floods in the Hawkes Bay," they say.
The two recently promoted their cause on East FM radio to raise awareness in the east Auckland community.
"We hope to provide a positive change for all those affected, particularly for other kuras [schools] that have suffered flood damage," they say.
Essential items required for the care packages are bottled water, non-perishable food, toys, books, shoes/clothes, linen, kitchen and cookware, and toiletries.
If you wish to put together a care package, they can be delivered to the foyer of the Bill Dimery Performing Arts Centre at Howick College by Friday, May 12.
"The foyer will be open, and a student leader should be there to receive donations. If possible, please deliver these items during school hours. However, we understand that this is not always possible so, if necessary, items can be delivered before and after school hours to the above location from 8am until 5pm," says Howick College.
The Howick College student leadership team plans to travel with the packages to the Hawke's Bay on Sunday, May 14 to help the Hastings Girls' High School community in person and distribute the goods to the community.
They will be mucking in with the clean-up at Puketapu Primary School, clearing the debris from the creek to alleviate future flooding risk, preparing kai [food] for the volunteers and anything else that's needed.
All monetary donations raised will go towards assisting Omahu Primary School in Hastings to subsidise uniforms, books, learning materials and other school necessities.
More than $850 has been raised through the school's Givealittle page, which can be found via the link https://givealittle.co.nz/cause/raising-monetary-funds-for-hastings-flood-relief.