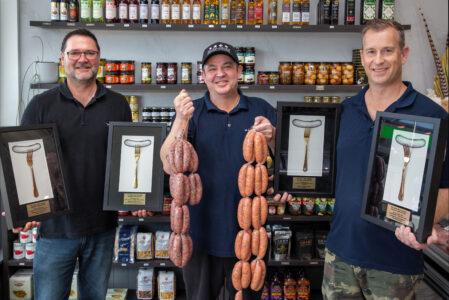 Howick is among butchery royalty, with Marbled Delicatessen, Fine Meats & BBQ scooping up four awards at the Great New Zealand Sausage Competition.
Marbled entered six sausages into the competition and won awards for four – Beef, Truffle and Mushroom Medley (gold), Bandido (gold), Old English Pork (bronze) and Welsh Dragon (bronze).
The only Auckland entrant that won more awards was the infamous Westmere Butchery, which took home six golds and three silvers.
This year, the competition broke all previous records with 646 entries, representing the craftsmanship of 116 producers across 14 sausage categories.
The Picton Street butchery is co-owned by five friends and colleagues – Darren Picton (known by many as Del Boy from Del Boy Sausages), Blair Welch, Darron White, Steve Lloyd and Garry Rees.
White says Marbled has really embraced the whole paddock to plate experience, making their sausages "pretty good".
"We've really upped our imports from Waikato and Karaka, so it's all very local and I think it shows in the flavour and the quality of our meats," he says.
Marbled opened in May last year with the help of well-known local restaurateur Ted Waters.
"During lockdown, Ted had a freezer full of meat at the Apothecary that was going to waste, so we set up a WhatsApp group and delivered meat to everyone in the group," says White.
From there, Westmere Butchery provided some of its finest award-winning sausages to Marbled.
"That's where it all started," White says.
Behind the business is Ted Waters, co-owner of The Apothecary Licensed Eatery, Piggy Bar and Daisy Chang based at the northern end of Picton Street.
What's more than their delicious sausies is their commitment to supporting the community by supplying meat and sponsorship to many local sports clubs. "We're very much a community-oriented shop," Del Boy says.
Also notable among the award winners were Sam's Butchery in Silverdale (Lamb Delight – gold elite category winner & supreme winner) and Salash in Huapai (Bachka Salami-Medium – Bronze) who are both regulars at the Howick Village markets.