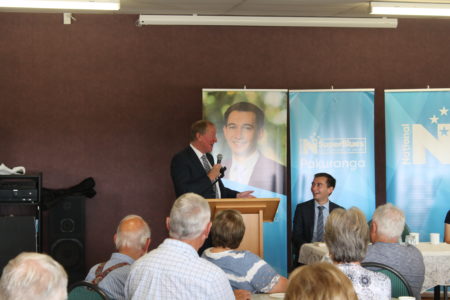 Popularly known as the 'Father of the House', MP Nick Smith was in Howick at the Pakuranga SuperBlues morning tea, at the invitation of Pakuranga MP Simeon Brown.
Smith, who currently serves at National's Spokesperson for Electoral Reform, State Services, and Crown-Maori Relations, and is leading National's policy development process across New Zealand, spoke about his four main concerns with the current government.
He listed a possible Capital Gains Tax (CGT), the Tomorrow's Schools education reform, infrastructure issues, and a Government which is going soft on drugs as the biggest issues of the day."
Brown says that National recently announced its first discussion document on the subject of the environment, with key themes around supporting biotechnology, a container deposit scheme, and a water infrastructure fund to invest in cleaning up urban beaches and rivers, and provide more efficient irrigation for farmers.
"Ours is a community of business owners, entrepreneurs, and people who have worked hard to earn what they have, and for whom a CGT would be disastrous," he says.