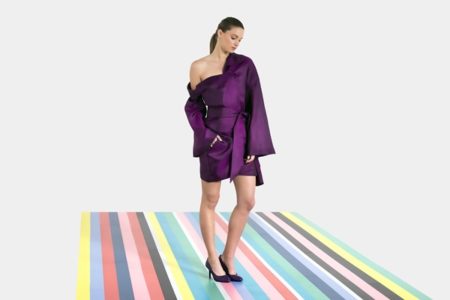 Jennifer Samsudin (20) is among 16 talented fashion designers whose silk showstoppers will open 3 shows at New Zealand's pinnacle fashion event.
In August the Pakuranga Heights undergrad will join 15 classmates whose work of silk genius has been chosen to open the Resene Designer Runway in three public shows at New Zealand Fashion Week, on sale now at iTicket.
80 metres of glistening silk in 16 Resene colours will emerge in the form of world-class fashion finery, giving New Zealand's newest fashion design talent a chance to make an earlier-than-usual career debut.
Stage lights will bring brilliance and sparkle to their looks as each show opens. Thousands of fashion-savvy eyes and hundreds of cameras will capture the moment.
Inspired by the "neon lights of Tokyo, the effortless chic street styles of Paris, the vibrant lifestyles of London," the stand-out dress in Resene Full Monty by Jennifer Samsudin builds on a philosophy that 'more is more.' The leading character in the design's back-story woke from a dream and grabbed a purple coat dress from the back of her closet.
It's the culmination of the 2017 Resene NZ Fashion Tech Colour of Fashion project, an education-meets-colour collaboration staged every year in the lead-up to Fashion Week.
This year the project saw a total of 36 students from NZ Fashion Tech inspired by a brief transporting their imaginations to the fashion capitals of the world.
The words of the brief were clear. Ordinary wouldn't do. The judges were looking for colourful looks: 'that shimmer and swish, and whisper secrets … that refuse to bow to the convention of ordinary'.
From a total of 36 Diploma students studying at NZ Fashion Tech campuses in Auckland and Wellington 15 were selected to travel to India in July, 16 were selected to show at New Zealand Fashion Week in August, and 7 achieved both.
The 16 students selected to show their work at Fashion Week are:
Auckland:
Suzi Thompson *
Sian Roberts *
Brooke Neary
Sara Rezai
Hayley Smith
Natalia Donald
Roi Nu
Raishal Harrison
Jennifer Samsudin
Wellington:
Youhan Khosho *
Susan Colton *
Olivia Dunn *
Kaylee Powell *
Katie Flanagan *
Andre Ngeth
Matthew Baitson
*those who are studying in India for six weeks with Prime Minister's Scholarships for Asia