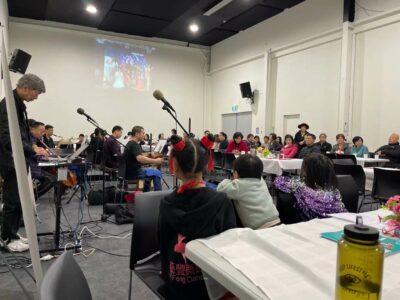 The Botany and Flat Bush Ethnic Association hosted a hangi lunch at the Kotahi Center on Ti Rakau Drive on June 19 to celebrate Matariki, the Maori New Year.
They also celebrated the birthdays of a number of community members in June.
The association also announced the opening of a new Stonefields branch, merging with an existing association to extend the amount of opportunities for the association to provide for the migrant community there.
The event featured cultural dances, music and performances, featuring some of the musicians who performed Chinese Traditional at Botany Library, taught by Dian Wei Li.
An audience of dozens of members attended, including association founder Peter Young, who took a moment to thank the volunteers and vice presidents contributing to the work the association continues to do, as well as Robben Li of the Stonefields District Branch.
"Aside from the performances, the function also had hangi catering and snacks available, allowing for an enjoyable Saturday social event for members of the immigrant community, of all backgrounds and ages," Young, a local board member, said.