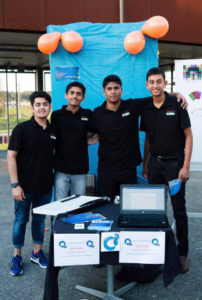 By Marianne Kelly
As Akshay Kakkar was asked more frequently by his parents to pick up takeaways, especially when guests arrived, he decided there had to be a better way which might also earn some money.
The result is a start-up on-line food delivery service, Quick Jandal, which has been formed by Akshay and three other Year 13 Ormiston College students.
The business is based on a mobile app through which users will be able to place an order from one of Quick Jandal's signed up restaurants or takeaway outlets.
The venture is part of the nationwide Lion Foundation Young Enterprise Scheme. The team will take part in a Dragons Den event at the end of this month and hopes to launch the app at the start of next month (June).
Akshay, who is the group's chief executive, says he thought it would be convenient and make his life easier if there was a service that could do his parents' takeaway pick-ups for him.
"Also, taking into account the extremely busy lifestyles people lead nowadays, an online delivery service could potentially meet the needs of a large demographic," he says.
"On sharing this thought with the group we came up with the idea of an online food delivery service that would serve the south-east Auckland area."
Throughout this year's first term the team conducted its market research reaching the conclusion that 50,000 people would actively purchase the app in the first year, with an average eatery receiving an estimated 15 orders a week in the first quarter.
They have targeted a five kilometre radius from Chapel Road encompassing Ti Rakau Drive in the north, through East Tamaki, Flat Bush, Clover Park and Otara.
So far the business has signed up 10 restaurants covering a variety of cuisines including Thai, Indian, and pizza. Operating hours will be 10am-10pm. The team expects to hire delivery people who will drive their mopeds, but they will also personally do deliveries in the weekends or when they get time off school.
Akshay says Quick Jandal hopes to continue the business operations after the Young Enterprise programme ends in November.