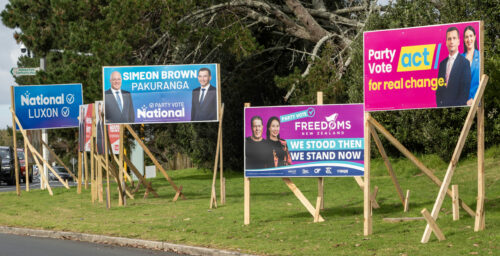 With less than two months until this year's general election, Kiwis are being urged to enrol to vote so they can make their voices heard.
The Electoral Commission recently mailed out personalised enrolment update packs to 3.4 million enrolled voters.
Chief electoral officer Karl Le Quesne says it's important people check their packs to make sure everything's correct in the lead-up to the election on October 14.
"We need everyone to check their details are up to date and make any changes needed.
"Make sure you're enrolled at the address where you live by September 10.
"That way, you'll get an EasyVote card and information about the election ahead of time, which will make voting easier.
"If you don't receive a pack by mid-August it means you're either not enrolled, or your details are incorrect.
"If that's the case, the easiest way to enrol or check your details is online at www.vote.nz."
East Auckland encompasses two general electorates, Botany and Pakuranga.
Both are represented by National Party MPs, being party leader Christopher Luxon and Simeon Brown respectively.
Luxon won Botany in 2020 with a majority of 3,999 candidate votes over Labour's Naisi Chen, who is not contesting the seat this year but remains on Labour's List.
Labour won the party vote in Botany in 2020, with 47.3 per cent to National's 36.9 per cent.
Standing in Botany against Luxon this year are Labour Party candidate Kharag Singh, the ACT Party's Bo Burns, and the New Conservatives' Dieuwe de Boer.
Brown won Pakuranga's candidate vote with a majority of 10,050 votes over Labour's Nerissa Henry, who's contesting the electorate again this year.
Labour won the party vote in Pakuranga in 2020, with 41.8 per cent to National's 38.3 per cent.
Standing in the Pakuranga electorate against Brown are Labour's Nerissa Henry, ACT Party candidate Parmjeet Parmar, and Rock The Vote NZ candidate John Alcock.
The Times asked several minor political parties if they were standing candidates in local electorates.
DemocracyNZ said it didn't have a candidate in east Auckland while Freedoms New Zealand and Vision New Zealand did not respond.
Le Quesne says voting takes place from October 2-14 and it gives Kiwis the chance to choose the people and parties that will represent them in Parliament.
"This is a big decision and it's important you're enrolled to vote so your voice can be heard.
"The Electoral Commission is here to help you get all the information you need to take part in the election."
He says enrolling to vote takes about five minutes and can be done online at vote.nz using a New Zealand driver licence, New Zealand passport or RealMe verified identity.
People can also enrol or update their details by filling in an enrolment form.
Forms are available online at www.vote.nz, by phoning 0800 36 76 56, or by texting their name and address to 3676.