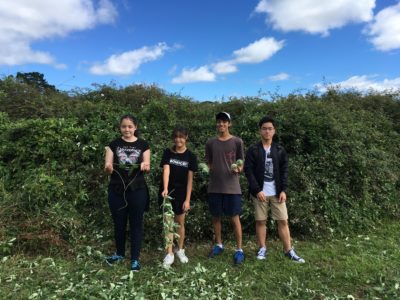 How many moth plant pods can a Botany Downs Secondary College (BDSC) student pick when he enters a pod picking competition?
Amelali Vaka picked 1083 pods in all and was one of the five students who picked more than 1000 pods.
His efforts won him a $100 Prezzie voucher and a day trip to Motutapu Island that includes a helicopter ride.
Ryan Chen also led a group of BDSC Enviroschools students who pulled off 492 pods in all.
Amelali is one of the pest-warriors who understands that the moth plant invaded New Zealand some years ago. An invasive, strangling pest plant, it smothers whatever plant or tree it climbs up and over.
Moth plant is not picky. Native or exotic trees and plants: all can be strangled. Insects can be trapped by the sticky white sap that it produces. The sap also irritates human skin. The pods burst open, the wind blows the seeds away–the life cycle starts again.
Watch out, the moth plant is probably on a fence, in a hedge or garden near you.
This year the Eden Albert and Howick Local Boards sponsored a competition for school students to see who could pick the most moth plant pods.
The competition saw more than 70 students from five schools take part.
Between them they removed 32,926 moth plant pods.
This represents about 12.9 million moth plant seeds in total.