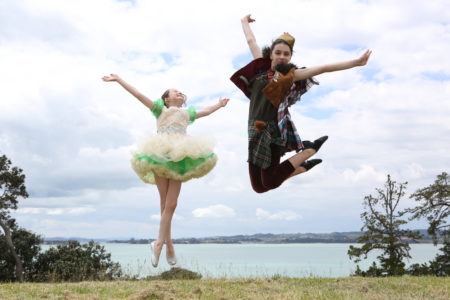 In three minutes flat there were 282 registrations for a role in Peter Pan, National Youth Theatre Company's (NYTC) latest production primed for a world premier on December 8. Currently there is a waiting list of 125 students.
From the 282 students who auditioned for a role in the musical by Jonathan Alver and James Doy's Peter Pan, Saint Kentigern College's Scarlett Jacques won the lead role.
"There were 30 of us who auditioned for the lead role of Peter Pan and it's lovely because we get energy off each other. We also learn a whole lot of life skills since a lot of them auditioning for the role are my friends who have been in theatre for a long time," says Scarlett.
For the 15-year-old who believes that nothing else makes her feel so happy than being on stage, this is her 11th stage production.
"I have done around eight to nine productions with NYTC and three other professional shows including the The Wizard of Oz, Annie the Musical and Billy Elliot," she says.
Juggling between school work and theatre, she says she is constantly preparing for the production with dance, jazz, lyrical training and lots of workshops.
But it is flying that she really looks forward to.
Training at the Dust Palace, the Circus Theatre company where cast members learn how to fly in a harness, is what she most excited about. "Peter Pan can fly," says the young
professional actor.
Mellons Bay School student Sophie Ward is equally pleased to play Tinker Bell. The 10-year-old, who will be making her debut on stage, says that the reason why she loves performing is because "you can be anyone you want!"
Dressed in her costume for the Times photo shoot, she exudes confidence as says she will be playing the role of Tinker Bell and Jane in the mega production which will have all the 282 actors on stage in a couple of scenes.
Marketing manager Shirley Sequeira who also looks after scholarships and school bookings for NYTC, a charity devoted to bringing confidence to young people through the theatrical arts, says that they have a triple cast for the seven shows at the ASB Theatre.
"We will be having four school shows with a total of 5000 students attending so far," she says.
"The idea behind a triple cast is that there is no one big star of the show. NYTC is about offering all young people from the age of seven to 21 an opportunity to participate in ongoing performing arts."
Through NYTC's OnStage programme, up to 220 students at a time participate in two full-scale musical productions every year.
More than anything else the children look forward to the two night theatre camp, says Shirley.
All young people are offered the opportunity to participate in ongoing performing arts training through workshops, courses and holiday programmes.
"We also have a scholarship programme where we partner with low decile schools. Currently we have 21 students on scholarship," says Shirley who is passionate about theatre.
The two big show scheduled by NYTC for 2018 is Cats the Musical and Shrek the Musical.
Peter Pan a new musical at ASB Theatre on December 8 and 9.