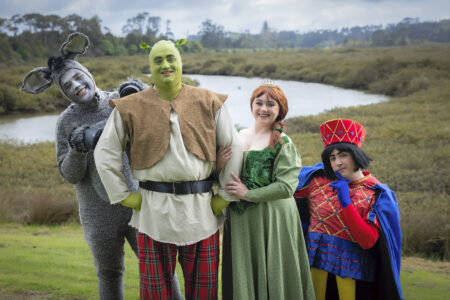 East Auckland's Harlequin Musical Theatre is ready to unleash its highly entertaining production of Shrek The Musical.
The theatre says the show is based on the Oscar-winning DreamWorks animated film Shrek.
It tells the tale of an unlikely hero who finds himself on a life-changing journey alongside a wisecracking Donkey and a feisty princess who resists her rescue.
"Throw in a short-tempered bad guy, a cookie with an attitude, and over a dozen other fairy tale misfits, and you've got the kind of mess that calls for a real hero.
"Luckily, there's one on hand … and his name is Shrek.
"Harlequin Musical Theatre brings you this entertaining musical that will be fun for the whole family.
"You won't want to miss this show, with all your favourite characters from the movie including an eye-fluttering dragon."
Shrek The Musical plays at Harlequin Musical Theatre, 563 Pakuranga Road, from November 18 to December 2. To book, go online to www.iticket.co.nz.