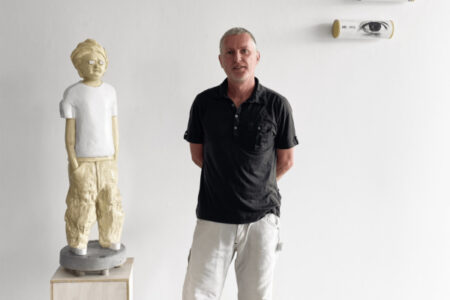 A creative new initiative aims to support local businesses and give the public an education in art from experts at the same time.
The 'Art of Conversation' is part of the Arts Out East initiative supported by Te Tuhi gallery in Pakuranga and the Howick Local Board.
It will see five accomplished artists give talks about their work in a relaxed and casual environment at their favourite east Auckland cafes.
The project's goal is to "break the formal nature of artist talks", which are traditionally held in the formal setting of an art gallery.
Each talk is free to attend and all people who go along are asked to do is buy an item of food or drink from the cafe while the talk is being held.
Arts Out East broker Ashley Grogan says: "This initiative aims to support the local businesses that have struggled over the past three years and to connect them with art.
"Artist talks held in a gallery are very formal and we want to break those barriers and make it a lot more casual and open and accessible for people, so this is a real casual set up."
Grogan says among the artists involved is well-known sculptor Ramon Robertson, who's exhibited his works in east Auckland.
"It's about connecting those businesses with potentially new customers who wouldn't necessarily have been there before and we're providing something a bit different for the arts scene," she says.
"Supporting the artists as well is really important.
"We want to create a sustainable economy for local artists and we want them to stay local.
"We don't want to lose them so we want to be able to provide them with the opportunity to earn an income and work locally as artists."
Grogan says the artists will talk about their practice, process, and current works.
"They'll just have a very open chat. We've also got Wendy Hannah, who's another very successful artist.
"She's going to talk about her practice and also an up and coming project she's working on with Botany Town Centre.
"The talks will be open for conversation and there will be questions and discussions.
"People can come along, hear from the artist, grab a coffee and we'll sit round and chat."
People who want to go along need to book online at https://linktr.ee/artsouteast.
Schedule of talks:
Wendy Hannah, May 11, 10am-11am, Morena Cafe, Botany
Wei-Hsin Kuo, May 12, 2.30pm-3.30pm, Te Tuhi Cafe, Pakuranga
Ramon Robertson, May 17, 2pm-3pm, Ara Tai Cafe, Half Moon Bay
Greta Umber, May 27, 1.30pm-2.30pm, Khaos, Howick
Toni Mosely, May 30, 1.30pm-2.30pm, The Burbs, Farm Cove