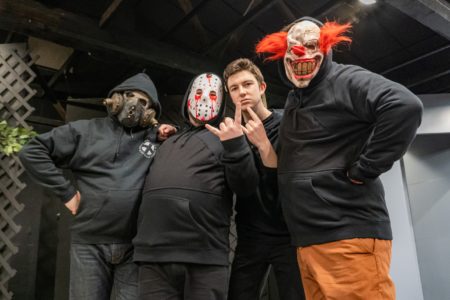 Michael Harrison thinks he has it all: a great career, good friends and a beautiful fiancee.
But when his stag night prank goes horribly wrong, he finds himself buried alive and staring death in the face.
As Michael's fears grow, Detective Roy Grace tries to solve his mysterious disappearance, but he starts to doubt that Michael will be found in time for his wedding – if at all.
Peter James has written 35 novels, including an International best-selling series featuring Brighton-based Detective Superintendent Roy Grace.
James' Dead Simple is another of his stage adaptations by Shaun McKenna to have received accolades wherever it is produced.
It's also the second time that Howick Little Theatre has presented a thriller based on a novel by James – both New Zealand premieres.
The first was The Perfect Murder in 2016, which was also directed by the vigorous, talented Nathan Hey.
This time for Dead Simple, Hey has put together a stellar cast including a return of Papakura actor Arthur Young, reprising his role as Detective
Superintendent Roy Grace – and they play a familiar mix of intriguing James characters, who will surprise and delight audiences.
The Times has two double passes to give away to Peter James' Dead Simple. CLICK HERE TO ENTER
What: Peter James' Dead Simple, directed by Nathan Hey
Where: Howick Little Theatre, 1 Sir Lloyd Drive, Pakuranga
When: Season: September 26 to October 17 (Wed to Sat, 8pm), with 2pm matinees on Sept 27 and October 4.