Four of New Zealand's top baseball prospects head to the Gold Coast in Australia next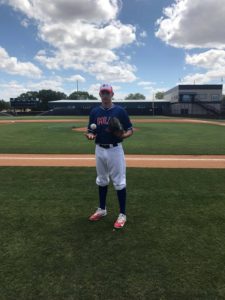 week, and a strong showing at the 10-day long Major League Baseball academy could be their first step towards an education or career in the sport. Or both.
New Zealand Diamondblacks pitcher Kyle Glogoski (Howick College) will be joined by Elliot Johnstone (Sacred Heart College), Yuuki Takahashi (North Shore City) and Ciaran Palmer (Victoria, Australia) from 28 July to 9 August for intense coaching, training and playing alongside the best young players in Australia and the wider region.
"Having been to the academy last year, I know how it works and am excited to be part of it again," said Howick-Pakuranga pitcher Johnstone. "Being able to showcase my skills in front of scouts and coaches again is a huge honour," he said.
"I'm really looking forward to working closely with former major league pitchers who are now coaches who will help me become a better player by fine tuning my (pitching) mechanics."
He is the current Baseball New Zealand U19 Player of the Year. "Being able to play ball every day is also exciting as I will be up against some of the best players in Australia so it will be a steep learning curve."
Of the four players headed to the Gold Coast, only New Zealand U18, North Shore City U19 and premier player Yuuki Takahashi will be attending his first academy, with Australian-based U18 catcher Ciaran Palmer and Johnstone heading to their second, while young Diamondblacks pitcher and hot MLB prospect Glogoski, will be heading to an academy for a third time.
"I'm really looking forward to going this year and catching up with some of the friends I have met and played with and against previously," said Glogoski.
"I'm also looking forward to comparing myself alongside some of the top players from my age group from different countries as this year will definitely be a lot of fun as well as being a very big year for making things happen."
This year has already been another big one for the 18-year-old pitcher who performed outstandingly for the New Zealand Diamondblacks at last February's World Baseball Classic Qualifier in Sydney and was this year named in May as the Lincoln Holdzkom Baseball New Zealand International Player of the Year (along with Diamondblack third baseman Daniel Lamb-Hunt) after his performances in the USA for an MLB International Select Team.
Glogoski definitely sees the academy as another step forward in his career. "It's another chance to put myself in front of a lot of high-level coaches and scouts who can really help me improve my pitching game and take it to the next level," he said.
The academy participants will be split into two teams for the 10-day academy and the four Kiwis will likely be split into the two groups and will play each other most days.
The learning opportunities and pathways for the nation's young baseball players are steadily opening up across the globe, as this year there are well over a dozen young Kiwis either playing professional or college baseball in addition to the four players heading to the Gold Coast as they bid to play at the highest level in the sport.
"These young men have worked tirelessly on the diamond and off to get chances like this," said Baseball New Zealand CEO Ryan Flynn. "And the likes of Kyle, Elliot, Ciaran and Yuuki have put in the training time to prove to our national coaches and selectors that they have the ability to go further in the game," he said.
"It's also great to see the likes of Aucklanders Joseph Kohlhase and Jarome McKenzie preparing for their college careers with stints in Colorado, which unfortunately at this moment could not happen if they remained in New Zealand," said Flynn.
He said many sports work to keep their best players in the country. "In a sport such as ours, for young men to take the next step and make a real go of going to college or play professional ball, they currently must leave our shores to do so. And we're proud of how many of our young men are doing exactly that."