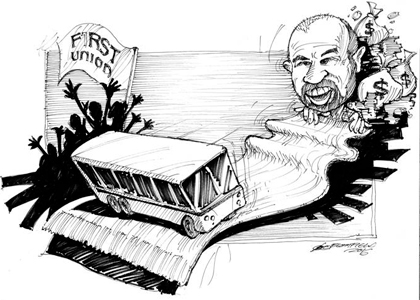 The latest from Blomfield (Darren Blomfield), a cartoonist for more than 30 years and now part of the Times Newspapers team. Born in west Auckland and living his life out west with a background in graphic design and print.
He targets a Times story from last month in which anger, frustration and a sense of camaraderie were the feelings of bus drivers on strike outside the Howick & Eastern bus depot.
The 24-hour demonstration on Ti Rakau Drive coincided with city-wide industrial action of bus drivers against NZ Bus which serves central and west Auckland and the North Shore.
The Howick & Eastern bus company which serves the eastern suburbs comes under the InMotion Group which is owned by Scottish billionaire Sir Brian Souter and protests were directed towards him.
It is understood to be the first time Howick & Eastern bus drivers have gone on strike.