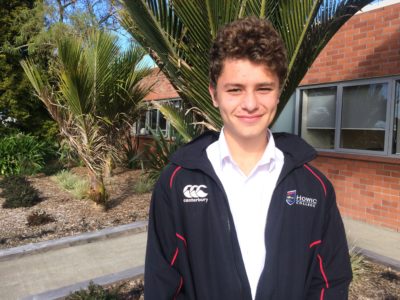 By Bridget Kelly
Elias Worrall-Bader is only 17, but his passion for the environment has him doing the unthinkable-giving up sugar for a week.
The self proclaimed sweet tooth will be giving up sugar for a week, shaving his head, and battling the ocean in a 5km kayak to raise money for the Sir Peter Blake Trust.
"The kayak is in honour of Sir Peter Blake and his love of the ocean, I've never been very good at kayaking so that will be a challenge," sad Worrall-Bader.
This is all for Howick Colleges leadership week, which they hold in co-operation with Sir Peter Blake trust to encourage leadership, and raise money for the organisation.
The Sir Peter Blake trust encourages New Zealand to make a positive difference to the environment, through action, awareness and leadership opportunities.
"Last year they (Sir Peter Blake Trust) sent me to Nelson to the Youth EnviroLeaders' forum and it was a life changing amazing experience, it made me want to give back to them."
Dean Sonja Petkovic is helping organise the weeklong event, she believes it provides an opportunity for students to dig deep within themselves to find their leadership skills.
"It tells them to believe in themselves and that anything is possible…. it's a very good life message in general," said Petkovic.
Howick College also have two guest speakers coming in to help inspire the students, and push the motto for the week #believeyoucan.
Nina Santos, 17, was part of the 2016 Sub-Antarctic voyage and will be speaking on the 27th.
Lynn Paterson paddled 5000km to raise money for mental health, and will be speaking on the 29th.
"I think Nina will be really interesting to me, because environmental politics is something I can really see myself doing in the future," said Worrall-Bader.
He hopes to raise $700, and is well on his way to smashing his goal, with $309 already raised.
Worrall-Bader admits that giving up sugar will be the biggest challenge for him; he is already looking forward to a sugar binge once the week is over.
It's all for a good cause though, and he hope his message gets across.
"We need to be more aware of the state of the world and how we're affecting it."
You can donate here: https://redsockschallenge.gofundraise.co.nz/page/EliasWorall-Bader