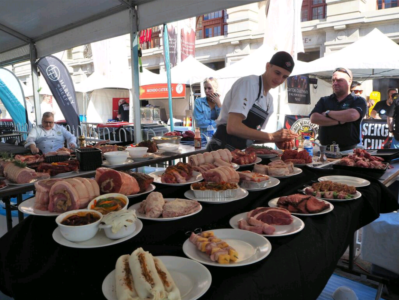 He put his knives on the table for his store and country and walked away victorious.
Beachlands resident Daniel Johnson has been awarded the silver medal for overall performance at the Lifeline Young Butchers competition in Perth, Australia on April 23.
He competed as the New Zealand representative after being nominated by Retail Meat New Zealand.
The 22-year-old newly qualified butcher was given three hours for meat manipulation with an additional 30 minutes to cook and present a dish.
He was competing against two butchers from the UK and five from Australia in the charity event designed to raise money for Lifeline, providing support for people living with mental illnesses.
"It was life changing and the greatest experience of my life… it was mind-blowing at the time," said Daniel.
"I wasn't going over there for fun – I went with a focused mind, and to represent my country and my store to the best of my ability."
He's worked in the butchery trade for five years now, starting out as an assistant at a privately owned company and most recently joining the team at New World Howick in late 2015, where he completed his apprenticeship through Foodstuffs.
The keen butcher knows a thing or two about the competition scene, too.
In 2016, he placed runner up in the Competenz Apprentice Butcher of the Year competition and joined the judges table at the Devro Preliminary Finals for the Devro Sausage of the Year competition in October.
This year, he competed in the Meatstock Butcher Wars, and looks forward to showcasing his skills further in the future.