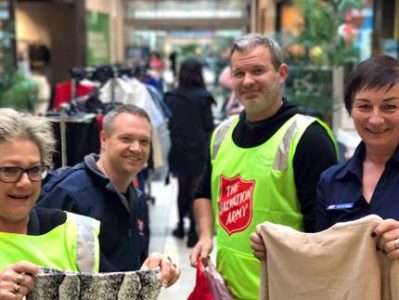 As we move into the coldest time of the year, many of us are purchasing warmer clothes to help keep the chill away. However, many families around New Zealand don't have the luxury of a new winter wardrobe because it simply isn't affordable.
Winter is a difficult time for many and the reality is that often people who enter a Salvation Army store for help are sleeping in their cars.
Botany Town Centre recently partnered with The Salvation Army for the first shopping centre clothing swap.
Not only was this event a fun way to shake up winter wardrobes by exchanging valued but no longer used quality clothing with other people but the swap had a main purpose of benefiting the community and all proceeds and left over clothing items were donated to those in need.
Statistics New Zealand states that around 41,000 Kiwis (at least one in every 100) are homeless; more than half of them are under the age of 25. That is more than 20,000 young New Zealanders – and the trendiness suggest the situation is only getting worse.
Feedback from the clothing swap proved positive with people praising The Salvation Army for their work and stating that it was great to have a clothing swap in a retail centre!
Last year, The Salvation Army helped more than 120,000 New Zealanders in need, through both short-term emergency support and also by working with each person on a long-term plan to lift them out of poverty using services such as budgeting, life skills, counselling and accommodation.
Raewyn Butler from the Salvation Army says, "The goods we sell and receive make a huge difference to people's lives and provide much needed relief to tight household budgets. Profits from goods and clothing sold through our Family Stores also support our community work.
"Local events such as this play an important role in making a difference in our communities.  We are grateful to be involved with a large shopping centre like Botany Town Centre."